Hall of Fame
MAA Hall of Fame Inductees 2017
The MAA Annual Conference was highlighted by several events. One of which is the induction of Auctioneers into the MAA Hall of Fame. This took place at the President's banquet on Saturday, January 21, 2017 in Traverse City. Inductees were honored for their extraordinary service to the Auction Industry by being inducted into the MAA Hall of Fame.
Jerry Cole
2017 MAA Hall of Fame Inductee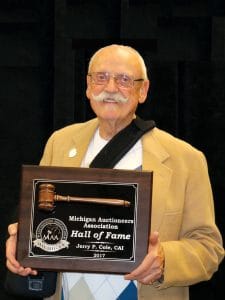 Traverse City, Michigan – Auctioneer Jerry Cole of Beulah, Michigan, received the highest possible honor any auctioneer can receive, by being inducted into the Michigan Auctioneers Association Hall of Fame.
Jerry Cole always loved antiques. At an early age, he and his father would go picking on trash day and reclaim, repurpose and refinish antiques that they would find. After his junior year in High School, he volunteered to join the army but had to have his parents sign a permission slip to enlist as he was not yet 18. He served two years in Korea and 2 years in Vietnam. After his army years he held several different jobs. From auto body to excavating to long haul trucking for many years. He has also been a barber for over 40 years. Jerry said, " I always enjoyed giving a good haircut as I didn't have any of my own to enjoy."
After he and his family moved back to Michigan, his wife, Mary Jo, was working at a local hospital and he spent his time refinishing antiques and selling them in antique shops. Auctions were the hot topic at the local antique shop. Jerry was intrigued, so in 1990, he and his friend decided to go to Reppert School of Auctioneering.
He found out quickly that being a first generation auctioneer, he was going to have to ask for help. Joining the Michigan Auctioneers Association proved to be the most beneficial tool to becoming a professional auctioneer. He learned quickly from other auctioneers and made lifelong friends.
After his family moved to northern Michigan, he grew his business and planted its roots, including building an auction house, conducting estates and consignment auctions throughout the year. Each year saw growth in his business and he always reinvested back into education and technology. His son, Grant, joined the business early on and runs it to this day, now specializing in Sports Collectibles. Grant's two children, Harper and Wyatt, are also growing up in the business. His young daughter, Harper has already spent some time on the microphone calling bids.
Jerry earned his Certified Auctioneers Institute(CAI), Accredited Auctioneer of Real Estate (AARE), and Graduate Personal Property Appraiser (GPPA) designations. He has been a successful auctioneer for over 20 years and has conducted over 1000 auctions in his career. He has sold everything from antiques to real estate, benefit auctions to local 4H and Boy Scout Fundraisers, and everything in between. Jerry gave back to the association he loves by serving on the MAA Board of Directors and serving as the MAA President in 2001. As soon as the program was offered, he committed to the MAA by becoming a Life Member. He has a passion for the auction profession and the MAA holds a special place in his heart.
Willis Yoder
2017 MAA Hall of Fame Inductee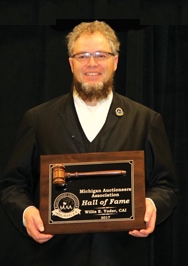 Traverse City, Michigan – Auctioneer Willis Yoder of Shipshewana, Indiana had an outstanding weekend at the Michigan Auctioneers Association Annual Conference in Traverse City. He was awarded the honor of the 2017 Michigan Ringman Champion on January 20 at the Michgan Ringman Championship. A field of 7 contestants from Michigan, Indiana and Ohio entered the competition. Also taking home honors were Eli Troyer and Kelly Merryman. Troyer was the 1st runner up and Merryman was the 2nd runner up.
The next evening, Willis received the highest possible honor any auctioneer can receive, by being inducted into the Michigan Auctioneer Hall of Fame.
As a boy growing up on a dairy farm in central Michigan, one of the highlights was going to the major draft horse sales and listening to some of the country's top auctioneers. It was also common to hear him practicing his auction chant in the silo at chore time where no speaker was needed, or on the plow every time you passed a fence post it was another bid.
This inspired him to go to Reppert School of Auctioneering in 1991, where he earned his diploma in auctioneering. After returning from auction school he contacted a local auction barn asking if they could utilize his help if he would donate his time. They accepted the offer. He would head out on his bicycle and pedal the 25 miles to the auction, work the ring until 7 p.m. and was called to the auction block where he sold until almost midnight. He sure was grateful to hitch a ride home with a friend after the auction, saving a 25 mile midnight ride.
He was also instrumental in getting his little brother excited to attend Reppert School of Auctioneering in 1993 and joining the Michigan Auctioneers Association. In 1994, they formed Yoder Brothers Auction Service. Their first auction was their dad's farm auction in April of 1994 with 40 head of dairy cattle, draft horses and farm machinery. They now conduct a huge consignment auction twice a year with farm machinery and miscellaneous. It's an outdoor, two day auction event with four auction rings selling both days, attracting 1500 to 2000 bidders in all. They also hold a horse and carriage auction on the first Saturday in May with approximately 300 head of horses and over 100 carriages.
In 2003, seeing a need and opportunity for custom built cashiering trailers and auction toppers, Willis was the founder and co/owner of Kuntry Custom R.V. Cashiering Trailers and Auction Toppers. He currently designs and builds various sizes of aluminum frame portable auction podiums along with his walnut auction gavels.
Willis currently can be found selling at Shipshewana Antique Auction every Wednesday. He helps his little brother with the larger auctions and consignment auctions in Michigan and he also works as a contract auctioneer for other auction companies.
Willis is the 2012 Super Summer Slam Down Bid Calling Champion, the 1997 Michigan State Auctioneers Association Bid Calling Champion, the 2004 and 2005 Indiana State Reserve Champion, a 2 time finalist in the International Auctioneers Championship, and the 2011 Pennsylvania Dutch Bid Calling Reserve Champion. He is a past MAA director, a 2002 graduate of the Certified Auctioneers Institute, and a 2011 Graduate of the Professional Ringman's Institute. He has been involved in more than the auction side of the auction business, building cashier trailers and truck toppers. Currently, in addition to conducting auctions, he supplies several different types of auction podiums to the auction industry. He loves to hunt, fish, go camping and ride horses. Willis lives in Shipshewana, Indiana with his wife and five children.
Jerry P. Cole, CAI
2017 Inductee
Willis Yoder
2017 Inductee
Daniel Burns
2016 Inductee
Tricia D. Wiltjer
2016 Inductee
Michael W. Furlo, CAI, CAGA
2015 Inductee
Douglas J. Heuker, AARE, GPPA*
2015 Inductee
Martin "Barney" Barnhart
2014 Inductee
Gwyn Besner, CAI, AARE
2014 Inductee
David G. Helmer, CAI, GPPA, CES
2014 Inductee
Wayne G. Blair, CAI, CAGA
2013 Inductee
Benjamin P. Glardon
2012 Inductee
Richard J. Montgomery, CAI, MPPA, CES
2012 Inductee
Hib Kuiper*
2011 Inductee
Timothy H. Narhi, CAI, GPPA, CES
2010 Inductee
Steven L. Reeser, CAI, AARE, GPPA
2010 Inductee

Scott A. Miedema, ISA

2009 Inductee

Edward G. King, CAI, CAGA*

2008 Inductee

Jerry Helmer, CAI, AARE

2007 Inductee

Art Smith

2007 Inductee

Lee Smittendorf, CAI, AARE

2006 Inductee

Sid Miedema, Jr, CAI

2005 Inductee

William L. Sheridan, CAI, AARE, GPPA

2003 Inductee

Thomas H. Wiltjer, CAI, AARE, GPPA*

2002 Inductee

James Sykora*

2001 Inductee

Brent Belcher

2000 Inductee

Herbert Albrecht

2000 Inductee

C.B. Smith*

1999 Inductee

William Podell

1999 Inductee

Lloyd R. Braun, CAI*

1998 Inductee

Edward L. Belcher*

1997 Inductee

Leo "Red" Merritt*

1997 Inductee

John M. Glassman

1995 Inductee

Donald C. Diesing*

1995 Inductee

Richard Brodie

1994 Inductee

William O. Coats

1994 Inductee

Garth W. Wilber, CAI

1993 Inductee

Stan Perkins*

1992 Inductee

* Deceased.

Would you like to nominate someone for the MAA Hall of Fame?
Click Here. (pdf file)
Michigan Auctioneers Association
4529 Gibbs NW
Grand Rapids, MI 49544
Ph: 616/785-8288
info@msaa.org