Hall of Fame
MAA Hall of Fame Inductees 2018
The MAA Annual Conference was highlighted by several events. One of which is the induction of Auctioneers into the MAA Hall of Fame. This took place at the President's banquet on Friday, February 2, 2018 in Frankenmuth. Inductees were honored for their extraordinary service to the Auction Industry by being inducted into the MAA Hall of Fame.
Leroy Yoder
2018 MAA Hall of Fame Inductee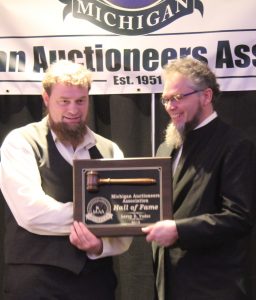 On February 2, 2018 at the Michigan Auctioneers Association Annual Conference President's Ball, Leroy Yoder was given the highest honor an auctioneer can receive by being inducted into the MAA Hall of Fame.
As a little boy, growing up on a dairy farm, Leroy Yoder always enjoyed practicing auctioneering. His mother always told him he should be an auctioneer as she thought he talked too much and asked too many questions. Leroy and his brother Willis always talked about going to auction school, and when old enough, they did. Leroy attended Reppert Auction school in 1993. Their first auction was their Dad's farm auction. They also helped a local auctioneer sell antiques when they first got started. They found there was more to the auction business than standing on a ladder and calling bids on sale day.
Leroy and Willis still work together on their larger auctions, since Willis moved to Indiana a few years back. Leroy continues the business with his family and enjoys working with other auctioneers. He conducts auctions of all types, including cattle, farm, estates, benefits and more. They conduct consignment auctions every year, which have grown to host 800 sellers and over 3000 buyers.
Leroy is a member of the National Auctioneers Association and a Life Member of the Michigan Auctioneers Association. He is very dedicated to the Michigan Auctioneers Association, serving on the board of directors and leading the Benefit Auction Committee, which just hosted the largest auction the MAA has ever had. Leroy is the 1996 Michigan State Auctioneers Association Bid Calling Champion, the MSAA's first Pennsylvania Dutch Bid Calling Champion, held in Shipshewana, Indiana at the Midwest Auctioneers Roundup, the 2013 Michigan Ringman Champion, and the 2013 Super Summer Slam Down Bid Calling Champion. He has also served on his local school board and completed his appraisal certification.
In his spare time, Leroy loves to hunt, fish and camp with his family. He hosts a Snow Shoe Hare Hunt and participates in many other events in his area. Leroy lives in Clare, Michigan with his wife, Lydia Ann, and their 6 children.
Calvin "Tink" Brown
2018 MAA Hall of Fame Inductee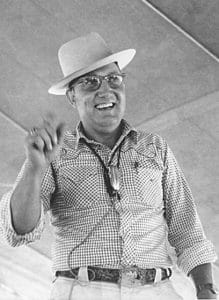 Auctioneer Calvin "Tink" Brown, of Hastings, Michigan, received the highest possible honor any auctioneer can receive, by being inducted into the Michigan Auctioneers Association Hall of Fame.
Tink was born July 28, 1926 in Fennville, Michigan. He passed away on Easter Sunday, March 23, 2008. He was born the sixth child of Ernest and Mellissa Brown. His family moved to Allegan when he was very young. He had five brothers and one sister. He grew up farming. In December of 1944, he joined the Army and fought in WWII until his honorable discharge in November 1946 after time served and bravery for his country. He never talked about the war or watched war films on TV. He only talked about his service once that his family can recall, when he spoke about his service and showed them all his medals and ribbons, which they didn't even know he had. In 1947, he married his high school sweetheart, Betty Joe Tremaine. They lived in Allegan at the "Brown Farm" up until 2004 when his health started failing. He and Betty Joe farmed the 80 acres and milked cows until his auction business got so busy, that he came home one day from an auction and found that Betty Joe had sold all the cows while he was gone. She was done doing chores. In 2004, they moved to Hastings down the road from his daughter and son-in-laws farm, Susan and Leon Casey, and lived their until his passing.
In 1956, he attended Reppert School of Auctioneering. He had 13 Auctions his first year in business. His second year in the business, he conducted 56 auctions and had done thousands over the course of his career. Tink enjoyed over 50 years of success in the auction industry with numerous achievements and contributions. His family continues his legacy to this day. He had a devout following for his auctions and a clear reputation as an honest, hardworking, and charismatic businessman. He included his family in his business and enjoyed working with them and watching them prosper. He looked forward to every auction with zest and enthusiasm. He literally enjoyed every day of his career and measured his success by his happiness and not his bank account.
Tink often realized he was selling someone's life's work. He enjoyed selling livestock, especially selling draft horses. He purchased Lake Odessa Livestock Yard with a partner. Under his leadership, the yards business grew, prospered and expanded into a monthly Horse Auction, a Dairy Cattle Auction, a Dairy Leasing Company, the first Draft Horse Auction in the State, Special Feeder Cattle and Brood Cow Auctions, Farm Equipment Consignment Auctions and even Exotic Animal Auctions. Calvin "Tink" Brown was a lifetime member of the Michigan Auctioneers Association and served on the board from 1964 until 1967.
One of Tink's best contributions to the industry was to instill this same work ethic in anyone he worked with or along side. He worked with many auctioneers over his career including Harold Dingman, Johnny DeMull, Bill Hart, Sid Cnosen, the Vaughns, VanderKolks, Belchers, John Glassman, Don Zanderbergen, Lavern Yutzy, Romayne Graber, Frank Leist, Bobby Bale, Doug and Steve Brown, Chad Brown, Charlie and Leon Dorr, Cal and Tye Casey. Any auctioneer he worked with had to be a member if they wanted to continue to work.
In 2016, Calvin "Tink" Brown was honored by the Michigan Auctioneers Association with a Lifetime achievement award to honor his accomplishments. On February 2, 2018, we are proud to honor him again by inducting him, posthumously, into the Michigan Auctioneers Hall of Fame.
Leroy Yoder
2018 Inductee
Calvin "Tink" Brown
2018 Inductee
Jerry P. Cole, CAI
2017 Inductee
Willis Yoder
2017 Inductee
Daniel Burns
2016 Inductee
Tricia D. Wiltjer
2016 Inductee
Michael W. Furlo, CAI, CAGA
2015 Inductee
Douglas J. Heuker, AARE, GPPA*
2015 Inductee
Martin "Barney" Barnhart
2014 Inductee
Gwyn Besner, CAI, AARE
2014 Inductee
David G. Helmer, CAI, GPPA, CES
2014 Inductee
Wayne G. Blair, CAI, CAGA
2013 Inductee
Benjamin P. Glardon
2012 Inductee
Richard J. Montgomery, CAI, MPPA, CES
2012 Inductee
Hib Kuiper*
2011 Inductee
Timothy H. Narhi, CAI, GPPA, CES
2010 Inductee
Steven L. Reeser, CAI, AARE, GPPA
2010 Inductee

Scott A. Miedema, ISA

2009 Inductee

Edward G. King, CAI, CAGA*

2008 Inductee

Jerry Helmer, CAI, AARE

2007 Inductee

Art Smith

2007 Inductee

Lee Smittendorf, CAI, AARE

2006 Inductee

Sid Miedema, Jr, CAI

2005 Inductee

William L. Sheridan, CAI, AARE, GPPA

2003 Inductee

Thomas H. Wiltjer, CAI, AARE, GPPA*

2002 Inductee

James Sykora*

2001 Inductee

Brent Belcher

2000 Inductee

Herbert Albrecht

2000 Inductee

C.B. Smith*

1999 Inductee

William Podell

1999 Inductee

Lloyd R. Braun, CAI*

1998 Inductee

Edward L. Belcher*

1997 Inductee

Leo "Red" Merritt*

1997 Inductee

John M. Glassman

1995 Inductee

Donald C. Diesing*

1995 Inductee

Richard Brodie

1994 Inductee

William O. Coats

1994 Inductee

Garth W. Wilber, CAI

1993 Inductee

Stan Perkins*

1992 Inductee

* Deceased.

Would you like to nominate someone for the MAA Hall of Fame?
Click Here. (pdf file)
Michigan Auctioneers Association
4529 Gibbs NW
Grand Rapids, MI 49544
Ph: 616/785-8288
info@msaa.org