Martin "Barney" Barnhart, MAA Hall of Fame 2014
Martin "Barney" Barnhart
2014 MAA Hall of Fame Inductee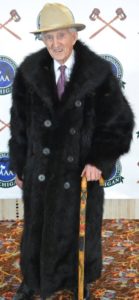 Born in 1920, Barney Barnhart was raised on the 202 acre family farm just south of Reading, Michigan where he still resides to this day. Arthur, Barney's father, in addition to running the family farm, dealt in Belgian draft horses. His father would frequent auctions with Barney in tow. Barney was intrigued with the auctioneers chant and when he returned home, working in the fields, he would often "practice" his chant by selling imaginary horses and grain while trying to learn the skills of the men he admired.
In 1939, Barney's father hired legendary auctioneer, Andy Adams to auction his registered short horned cattle herd. Seizing an opportunity, Barney asked Mr. Adams if he could sell a wagon full of miscellaneous items. The legendary Andy Adams saw something in Barney as soon afterward, he hired him to work future auctions. From that day on, 73 years later, Barney Barnhart has been a regular fixture as an auctioneer at the South end of the Hillsdale County Fairgrounds on Saturdays.
He has held or assisted with auctions literally all over the United States. The biggest auction Barney ever conducted was in Minnesota where he sold an entire town. It was a lumber town which was no longer needed. There was a bank, jail, barber shop and other types of log cabin structured buildings which he sold. That day, he sold an old milk wagon that had been left behind. It was the first horse drawn wagon in the city which sold at auction for $27,000.
From 1940-2009, Barney assisted with and donated his valuable time at the annual 4-H and FFA animal auctions at the end of each Hillsdale County Fair. Barney and his family also raised and showed pure bred Chester White swine. In 1952, their entry in the Michigan State Fair was the state champion borrow and was the first in Michigan to sell for more than $1,000. Ironically, the hog's name was "One Grand!" Barney and his father were featured on the cover of the 1952 issue of Michigan Farmer magazine.
Barney and his beautiful bride Ruby married in 1947. They have five children, five grandchildren and three great grandchildren. Ruby passed away just before their 61st anniversary in 2008. This past October 10, 2013, The Exchange Club of Hillsdale honored Martin "Barney" Barnhart with his induction into the 33rd Book of Golden Deeds Award Banquet. Barney was honored by the MAA with his induction into the MAA Hall of Fame as well as a Lifetime Achievement Award.