C.B. Smith
    HALL OF FAME
C.B. Smith
1999 MAA Hall of Fame Inductee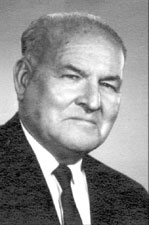 Clarence B. Smith was born May 7, 1897, in Henry County, Kentucky. From boyhood he had a deep love for fine livestock and in 1910, when he was 13 years old, he began showing saddle horses at country fairs. The lure of the tan bark never got out of his system and his greatest relaxation and avocation was to bring out Holsteins in show ring competition. During the years, he showed several All-American winners and many contenders.
Following World War I, in which he was in Naval Aviation, he formed a partnership with D.C. Clark in the operation of Echo Farms at Long Run, KY. He showed the herd at the National Dairy Show in 1925. A year or two later following the dispersal of this herd he came to Michigan (as an automobile worker), but was unhappy away from Holsteins and returned to the industry as manager of Baynewood at Romeo, MI. Here he developed the great Royal Ormsby and presented her and her son at the 1929 Royal Brentwood Sale where Winterthur Farms bought mother and son at $6300 for the cow and $10,100 for the calf – and added an important link in their breeding program. Later he managed a Guernsey herd at Pinconning, MI.
In 1937, he was appointed director of Michigan's Bureau of Animal Industry to the great benefit of the progress of the State Institutional herds. He had dabbled in auctioneering work since his early days in Kentucky (about 1922) and in 1939 he decided to devote full time to that profession and sale management. With his background knowledge of the breed and purebred values he was a "natural" for this work and quickly won a place in the top rank of Holstein salesmen. He has sold most of the top sales of our breed in both the U.S. and Canada. Right after WWII he built his Wolverine Purebred Livestock Pavilion at Williamston, MI, one of the most modern and convenient buildings of its type in the country and a great asset to Michigan's purebred livestock industry.
Smitty, as he was universally known, was a dynamic and forceful personality, a loyal friend and inspiring and vigorous advocate of the things in which he believed. He has represented his state for the past 20 years as a delegate to the National Holstein-Friesian Association Conventions. He has served as President of the National Auctioneers Association and likewise of Michigan State Auctioneers Association.