Steven L. Reeser
Steven L. Reeser, CAI, AARE, GPPA
2010 MAA Hall of Fame Inductee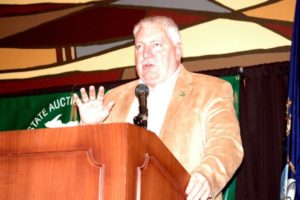 Steve Reeser was proudly inducted into the Michigan State Auctioneers Association Hall of Fame at the President's Banquet of the MAA Annual Conference in Kalamazoo on January 28, 2010. Reeser started his auction company, Steve Reeser Associates, in 1977. He was the first auctioneer in Michigan to have an auction topper to sell from. Unlike many of us, he was successful immediately. In his early auction years, when there were only chapter 7 bankruptcy trustees, Steve would buy the bankruptcies directly from the court and sell them in 15 days. Steve is a Real Estate Broker and has earned his CAI, AARE and GPPA designations from the NAA Education Institute. He helped start the real estate continuing education course that many of us use today.
Steve served the MAA for many years. He was the president of the Michigan State Auctioneers Association in 1987 and served 4 years as Treasurer at CAI.
In 1999 he sold his auction company to Miedema Auctioneering and he even put them through an interview to ensure that his clients were going to good hands. He now works with Miedema Auctioneering, Hudson Marshall and JP King. He loves auctions so much that he even sold his own concession business at auction. Steve has been extremely successful, even through adversity with his health, he has come out on top. Steve is also a pilot with an Airline Transport Rating. He was inducted into the MAA Hall of Fame by the 2009 inductee, Scott Miedema. Scott spoke of Steve's experience as a pilot and their experience of crashing in Wisconsin a few years ago – and they are both here to tell about it. The MAA is proud to present their highest honor to Steve by inducting him into the MAA's Hall of Fame.