Tricia Wiltjer, MAA Hall of Fame 2016
Tricia D. Wiltjer
2016 MAA Hall of Fame Inductee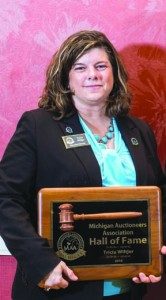 Grand Rapids, MI – Michigan Auctioneer, and Executive Director of the Michigan Auctioneers Association, Tricia Wiltjer, received the highest possible honor any auctioneer can receive. Like her father, Tom Wiltjer, Tricia was inducted into the Michigan Auctioneers Hall of Fame on February 18 at the Michigan Auctioneers Association Annual Conference. Tricia Wiltjer is a second generation auctioneer – she's been involved in the Auction Business in one way or another for over 30 years. From the age of 10, Tricia worked in the auction office. At only 11, she was put in charge of running the office for their auction out of the tack room of her horse barn when they moved from East Jordan to Grand Rapids.
In 1997, she was asked to take on the responsibility of the management of the Michigan Auctioneers Association, where she helped manage the 50th Anniversary Conference of the National Auctioneers Association in Grand Rapids. She's worked tirelessly over the years to bring new and innovative ideas to the association including an award winning magazine and website, and many training and business practices that the board of directors uses today.
Tricia has always been involved in business, going into Siedman Business School at Grand Valley State University, earning her Bachelors and Masters degrees in International Business. She studied language at the University of Guadalajara in Mexico. She's also earned her real estate broker's license and auto dealer license.
Tricia never wanted to be an auctioneer. But in 1999, she changed her mind. She made the decision to go to auction school and didn't tell anyone but her Dad. In the spring of 2000, she went to Texas Auction Academy and discovered that she was a talented auctioneer, although she had never called a bid until the first day of auction school. She sold several benefit auctions with her Dad and every once in a while at their auctions when she was able to get out of the office. Unfortunately, Tricia and her family lost her Dad in December of 2000. She and her Dad worked very closely together in the business and continued it for several years selling real estate, farms and estates. These days, she continues the business as a benefit auctioneer and does contract work for other auction companies.
Tricia has given most of her life to the auction business and she continues to do so. Her dedication and love for the industry goes unmatched. Several years ago, she moved back to Northern Michigan, where she loves the outdoors.