FRANK C. LEIST INDUCTED INTO THE MICHIGAN AUCTIONEERS HALL OF FAME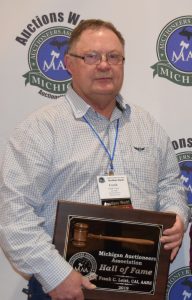 Auctioneer Frank C. Leist, of Boyne City, MI recently received the highest distinction any auctioneer can receive when he was inducted into the Michigan Auctioneer Association's Hall of Fame. The induction occurred on February 1, 2019 during the President's Ball to conclude the annual Michigan Auctioneers Association's Annual Conference held this year in Mt. Pleasant, MI.
Current Michigan Auctioneer Association Hall of Fame members vote each year on whether to induct nominated members into their honorable fraternity. Frank's career was recognized as worthy of induction after considering his years in the industry, high standard of professionalism, business integrity and contributions to the industry and auctioneer association. Frank was the lone auctioneer inducted in 2019. Dozens of family and close friends were on hand during the ceremony to watch the induction and celebrate the moment with association members in attendance.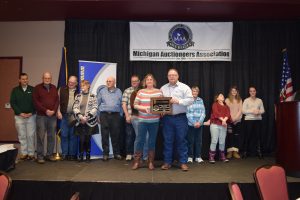 Frank's auction career has spanned five decades selling primarily livestock, estates, farm dispersals and real estate. Frank graduated from the Reich World Wide College of Auctioneering in 1984. Frank returned after graduation and promptly went to work building a successful auction business on the grounds of integrity and honesty. Frank's career has since seen him sell hundreds of auctions, dozens of farms, and countless estates including some totaling well over a million dollars.
Frank knew early in life that he wanted to be an auctioneer. As early as grade school he shared his talents on the school bus by auctioning off his sister's lunch, a stunt that earned the dismay of his mother, Ruth Leist. After auction school Frank's first auction netted a meager $100 commission. Frank and his wife, Janet invested their first commission into their fledgling business by purchasing office equipment.  Commissions became larger with each auction, but Frank's investment into his career remained. Frank invested earnings into not just auction equipment, but into his education by earning designations in the auction industry such as AARE (Accredited Auctioneer of Real Estate), CAI (Certified Auctioneers Institute) as well as becoming a broker of real estate. Frank's investments into his career earned him knowledge and experience that few auctioneers in the state possess.
Though he's conducted auctions in virtually every niche of the industry. Frank's real passion has always been as a livestock auctioneer. After graduating high school in 1973 Frank learned about livestock auctions by hauling cattle to the Gaylord Stockyard. In 1979 he and his father, Frank Sr. began hauling cattle to the Marion Stockyards where Frank would soon begin working as their auctioneer. Frank quickly and steadily became one of the busiest livestock auctioneers in the state, selling every week at markets in Marion, Clare and Alpena. During this time Frank was recognized by the Livestock Marketing Association as their Region 1 Champion Auctioneer from 1996 – 1999.
In 2000 Frank stopped working at the Marion Stockyards and began managing the stockyard in Gaylord. Frank and Janet would purchase that stockyard two years later and name it Northern Michigan Livestock. Frank continued to sell for his close friends Bud Gernaat in Clare and Gene Hanson in Alpena until both men passed away.  Both of those markets were the chief competition to Frank's own market and his strong relationship to their owners is a testament to his character and loyalty. Frank continues to call bids and manage Northern Michigan Livestock during their weekly livestock auction on Wednesdays.
Frank's legacy in the auction industry extends far beyond his own career. Frank's two eldest sons Ed Leist and Wade Leist are both active in the auction industry as well. Frank has been a mentor to them in the industry and deserves credit for their accomplishments and success.
Frank, his cousin Jerry Schmoldt, along with Ed and Wade all currently manage dozens of auctions each year as Leist Auctioneers. Their company continues to grow and adapt within the industry to feature traditional live auctions, as well as online and simulcast auctions. Adapting to current trends has helped Leist Auctioneers manage a multitude of asset classes to meet the needs of their clients.
Frank and Janet stay plenty busy outside of the auction industry by managing a large cattle farm in the Boyne City area. Together they have three sons, Ed, Wade and Brandon, along with 6 grandchildren. Frank is honored to be the inducted into the Michigan Auctioneers Association Hall of Fame.