Calvin "Tink" Brown
2018 MAA Hall of Fame Inductee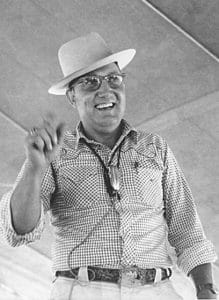 Auctioneer Calvin "Tink" Brown, of Hastings, Michigan, received the highest possible honor any auctioneer can receive, by being inducted into the Michigan Auctioneers Association Hall of Fame.
Tink was born July 28, 1926 in Fennville, Michigan. He passed away on Easter Sunday, March 23, 2008. He was born the sixth child of Ernest and Mellissa Brown. His family moved to Allegan when he was very young. He had five brothers and one sister. He grew up farming. In December of 1944, he joined the Army and fought in WWII until his honorable discharge in November 1946 after time served and bravery for his country. He never talked about the war or watched war films on TV. He only talked about his service once that his family can recall, when he spoke about his service and showed them all his medals and ribbons, which they didn't even know he had. In 1947, he married his high school sweetheart, Betty Joe Tremaine. They lived in Allegan at the "Brown Farm" up until 2004 when his health started failing. He and Betty Joe farmed the 80 acres and milked cows until his auction business got so busy, that he came home one day from an auction and found that Betty Joe had sold all the cows while he was gone. She was done doing chores. In 2004, they moved to Hastings down the road from his daughter and son-in-laws farm, Susan and Leon Casey, and lived their until his passing.
In 1956, he attended Reppert School of Auctioneering. He had 13 Auctions his first year in business. His second year in the business, he conducted 56 auctions and had done thousands over the course of his career. Tink enjoyed over 50 years of success in the auction industry with numerous achievements and contributions. His family continues his legacy to this day. He had a devout following for his auctions and a clear reputation as an honest, hardworking, and charismatic businessman. He included his family in his business and enjoyed working with them and watching them prosper. He looked forward to every auction with zest and enthusiasm. He literally enjoyed every day of his career and measured his success by his happiness and not his bank account.
Tink often realized he was selling someone's life's work. He enjoyed selling livestock, especially selling draft horses. He purchased Lake Odessa Livestock Yard with a partner. Under his leadership, the yards business grew, prospered and expanded into a monthly Horse Auction, a Dairy Cattle Auction, a Dairy Leasing Company, the first Draft Horse Auction in the State, Special Feeder Cattle and Brood Cow Auctions, Farm Equipment Consignment Auctions and even Exotic Animal Auctions. Calvin "Tink" Brown was a lifetime member of the Michigan Auctioneers Association and served on the board from 1964 until 1967.
One of Tink's best contributions to the industry was to instill this same work ethic in anyone he worked with or along side. He worked with many auctioneers over his career including Harold Dingman, Johnny DeMull, Bill Hart, Sid Cnosen, the Vaughns, VanderKolks, Belchers, John Glassman, Don Zanderbergen, Lavern Yutzy, Romayne Graber, Frank Leist, Bobby Bale, Doug and Steve Brown, Chad Brown, Charlie and Leon Dorr, Cal and Tye Casey. Any auctioneer he worked with had to be a member if they wanted to continue to work.
In 2016, Calvin "Tink" Brown was honored by the Michigan Auctioneers Association with a Lifetime achievement award to honor his accomplishments. On February 2, 2018, we are proud to honor him again by inducting him, posthumously, into the Michigan Auctioneers Hall of Fame.