Lee Smittendorf
HALL OF FAME
Lee Smittendorf, CAI, AARE
2006 MAA Hall of Fame Inductee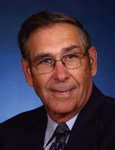 Lee Smittendorf began his auction career in the family business, holding his first auction at the ripe old age of 16. Through the years, he has maintained a high standard of professionalism. Always eager to improve his personal skills, he acquired his CAI and ARRE designations. Always eager to improve his business, he consistently encouraged his staff to take advantage of classes and attend MAA conventions.
Lee became a member of the Association almost as soon as he became a consenting adult. He served two terms as a member of the Board of Directors. He contributed many articles for the Gavel and encouraged several other auctioneers and auction staff to do the same.
He has encouraged association members to take on additional responsibilities, including joining the Board of Directors or taking on leadership roles within the Board. Somehow, he makes people believe in themselves and do things they might not otherwise try. He is an asset to our association and has been for more than 40 years.
Personally, Lee went above and beyond. When his parents became terminally ill, he re-arranged his life so that he could attend to their needs. This often meant that his personal needs were neglected. He went without sleep and often didn't have the time or energy to eat a decent meal. When a customer's needs could not be met due to these caretaking demands, he would often refer these customers to competitors. Both his parents died in the comfort of their own home following long illnesses. During those long illnesses, he never turned away from caring for them.
Auctioneering is a tough business and tough to break into. Understanding this, he has consistently mentored and supported new auctioneers and auctioneers striving to improve. Whether an auctioneer needs to borrow equipment, work at one (or many) of his auctions to gain experience, have a sympathetic and confidential, problem solving ear or just have someone in the audience to cheer during the bid calling contest, you can bet that he will be there.
Lee has contributed more to his family, his friends and to the success of the auction industry than ever expected. He is truly deserving of the honor of being inducted into the MAA Hall of Fame.