Donald C. Diesing
    HALL OF FAME
Donald C. Diesing
1995 MAA Hall of Fame Inductee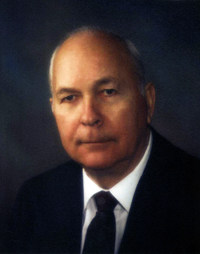 Born in Manistee County on February 22, 1923, Don Diesing was destined to become an auctioneer. He graduated from Manistee High School in 1939 and Reppert Auction School, August 23, 1940. He was the president of the Manistee County Junior Farm Bureau in 1942 and 1943.
Don was a member of the Manistee County Planning Commission in 1943 and 1944. He was a graduate of General AG course at Michigan State College in March 1944. July 19 of 1944, Don became a member of the United States Army and became an infantry instructor of heavy weapons company following basic training. He served in the 85th Military Government Company in Iwate and Miyagi prefectures of Japan, 1944-1946, leaving there as Chief of Subsections, Public Safety Branch.
In 1956, Don graduated from the Realtors Institute of the University of Michigan and served three years as President of Mason-Oceana-Manistee Board of Realtors. He also served on many annual appointments as a member of the Grievance Committee of Mason-Oceana-Manistee Board of Realtors. Diesing was chosen as Realtor of the Year in 1979 for the same Board. Don ran a successful operation of Real Estate offices in Scottville from 1949 through 1998.
He served as Redeemer Lutheran Congregation of Scottville for many years as president and as treasurer. He is a former Board of Review member and former City Commissioner of Scottville. In 1962, Don served as Mayor. He served 3 years on the Mason County United Fund Committee. As well, he served as a director on the Scottville Development Corporation and as a director of the Scottville Chamber of Commerce. Don was selected by the Scottville Chamber of Commerce as the 1986 Business of the Year, for outstanding community contribution.
He was proudly listed by the Marquis Who's Who Publications Board certifying that Donald Carl Diesing is a subject of biographical record in Who's Who in the Midwest, Twenty-Third Edition, 1992-1993.
In 1980, Don served as President of the Michigan State Auctioneers Association. This was during his successful career in Auctioneering for 58 years.