Mike Furlo, MAA Hall of Fame 2015
Michael W. Furlo, CAI, CAGA
2015 MAA Hall of Fame Inductee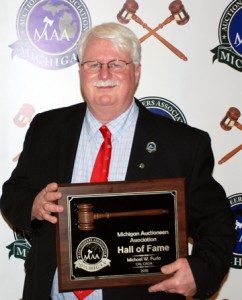 On Tuesday, March 13, 1956, a little boy named Mike was born. His mom taught him to talk, and he hasn't stopped since! He had a colorful upbringing, spending much of his time at the Schuk Hotel and The Town House restaurant, owned by his parents.
In 1976, Mike married the love his life, Jean Helm. Together they had a daughter, Trudy, and two sons, Bill and Tony. With their children and their daughter in law Trina, Their legacy continues, with grandchildren, Logan, Drake, Dillon, Emily, Corbin, Will, and Gracie.
Mike had several independent businesses. He had his own well drilling business, then went on to custom combining. When satellite dishes became popular, Mike was on the front line in sales and promotion. Memories by Mike was his photography shop in Merrill. After the large satellite fell out of favor, he spent a year in Japan teaching conversational English. This led to several years working with Northword University ESL, recruiting and sponsoring numerous Japanese college students.
All these life experiences had Mike perfectly positioned for his life long career – auctioneering. He came into the field because of a random comment made by Leonard Breasbois. In 1986, while visiting with Mike, Leonard simply said: "You know, Mike, you'd make a good auctioneer!" And so it began. Mike did some investigating, he enrolled in the Reppert Auction School, graduating in May of 1986. He did several benefit auctions for experience. His first paying auction was a small farm sale, held in a field with folding tables and hand written clerking sheets.
Nowadays, Mike's auctions are state of the art, with computerized clerking, wireless credit card processing, video and audio recordings and professional marketing. Noticing that big sales can make for long walks to the sales, Mike personally purchased two shuttle vehicles, to make it easier to get to the auction site. His biggest auction by far was a property sale. Appraised by real estate professionals at $400,000, the final bid was just $2,000 shy of one million dollars. Needless to say, the sellers were extremely happy!
Mike does a lot of property auctions, as well as estate. He's very sought after for restaurant/business auctions, as he knows the equipment and their uses, and can speak the buyer's language. Mike also has a good appraisal business. Many individuals, professionals, banks, and credit unions use Furlo Auction Service as their source for appraisals.
Mike still loves to do benefit auctions. Some of his favorites are the Big Brother, Big Sisters, National Wild Turkey Federation, Steelheaders, St. Judes, St. Brigids Catholic Schools, and many others.
When not auctioneering, Mike has a passion for horses. Mike and Jean love to trail ride, going on rides throughout Michigan as well as out of state. Mike also loves to ride his horses "Sorting and penning". The first time Mike rode his horse Hal sorting, they trotted away with 1st place! If you happened through Freeland and saw a horse and buggy going through the drive thru at Burger King, it was probably Mike.
Mike loves the auction business. He continually is looking to improve himself and his business. He's a member of the Michigan Auctioneer' Association, CAGA, CAI, and NAA. A past president of the MAA (2005), he continues to support and enjoy the meetings and conventions. Mike has brought his family well into the auction business. His daughter Trudy and son Tony can both be found regularly calling bid at Furlo auctions. His son Bill has called auction as well. His daughter-in-law Trina can be found behind the clerk station, and his sister Kathy works the pay window. Jean is everywhere, clerking, setting up the auction, running the window, settling up with sellers, and making sure everything runs smooth.
Much like Will Rogers, Mike has never met a man he didn't like. He can walk into a crowded room full of a hundred strangers, and walk out with a hundred friends. He goes the extra distance to make people comfortable and happy. Mike works hard for his sellers, but strives to make his buyers happy with their purchases, too. On two separate occasions, he searched out and contacted people who had lost their class rings that had been found in storage locker auctions. He doesn't do it for a reward – which he refused in both cases – but because that's the type of person Mike is.
Mike Furlo is many things – a great husband, a good dad and grandpa, a terrific friend, and an outstanding auctioneer. He's even an ordained minister, and has performed several weddings He has a huge love of life. He likes to have fun, and likes others to have fun at the same time. Congratulations on an honor well deserved!