Richard J Montgomery, MAA Hall of Fame
Richard J. Montgomery, CAI, MPPA, CES
2012 MAA Hall of Fame Inductee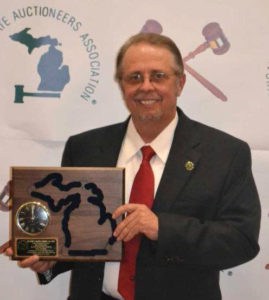 Richard Montgomery started in the industry working with Norman Levy & Associates as a teenager. After that he went to work with Williams & Lipton Co. for 5 years. When asked, Rick says "The auction business is the only business I know, I have never had any other type of job (Not sure if that is good or bad!)"
R.J. MONTGOMERY & ASSOCIATES, INC. was established in 1985 and has been servicing clients with professional auctions, appraisals, liquidation's and various other business functions ever since. Richard personally has been working in this same field for over 40 years. As a graduate of the Reppert School of Auctioneering, Inc. and the Auction Marketing Institute, he has earned the designations of Certified Auctioneer (CAI), Certified Estate Specialist (CES), Graduate, Personal Property Appraiser (GPPA) and earned the 60th Master, Personal Property Appraiser (MPPA) in the world. He also graduated from the International Society of Appraisers "Specialty Course of Machinery & Equipment".
As CEO/president of R.J. MONTGOMERY & ASSOCIATES, INC., one of the top AUCTION, APPRAISAL AND LIQUIDATION firms in the State of Michigan, he makes it his goal to provide clients with the most thorough, efficient and expedient services in the state.
He is a member of the National Auctioneers Association, the Michigan State Auctioneers Association (2003 President, 2004 Chairman of the Board), The Auction Marketing Institute, the International Society of Appraisers, the Machinery Dealers National Association.
He is bonded with the United States Government and works regularly with the United States Bankruptcy Courts conducting auctions, appraisals and liquidation's on their behalf. Satisfied clients also include the United States Justice Department, a large assortment of financial institutions (which include, JP Morgan Chase, Comerica, Citizens Bank, Bank of America, Key Bank, Fifth Third Bank, Huntington Bank, etc.), municipalities/cities, many charity organizations, and a large number of business and private clients.