Art Smith
 2007 MAA Hall of Fame Inductee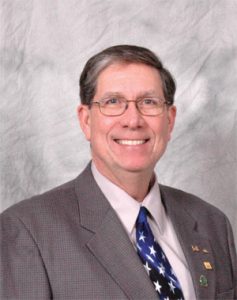 Art Smith did not grow up in an auction family like many auctioneers. He attended many auctions as a child and but never gave it much thought to becoming a professional Auctioneer. After graduating from high school he hired into General Motors, married his high school sweetheart, Kim, and then bought a great farm that needed a young man with great ambition. As his family started to grow, he worked hard days farming and long nights at General Motors. He was thankful for everything he had, but he knew that God had something else for him.
After attending several auctions, Art was chided by his wife to try it out. After that, he was hooked and decided that maybe Auctioneering was for him. He won a cash award at General Motors for submitting an idea that would save the company money. This afforded him the opportunity to go to Reppert School of Auctioneering.
Early on, he started selling the Ravenna flea market Auction and eventually moved up to sell at the weekly Ravenna Livestock Auction. Working full time at General Motors and conducting local estate and farm Auctions he obtained the reputation of being an honest and hard working Auctioneer. He cultivated his professionalism and was one of the first in his area to have a custom built mobile office, custom yard signs and professionally type set Auction flyers.
Many things contributed to his early success including joining the Michigan State Auctioneers Association and learning from educational seminars and the knowledge of generous Auctioneers with decades of experience. He served on the MAA Board early in his career and again a few years ago. He competed in the Bid Calling Contest for many years, getting to the finals several times and winning the trophy in 2001. After attending his first convention soon after completing Auction school he has been steady attendee ever sense.
As he grew his Auction Company and worked at General Motors he was always mindful of the time to be spent with his family. One reason for his initial interest in the Auction profession was the long history of the family run Auction business. He knew that he wanted a career that would fit well with his goals of providing for, and raising his family. From the beginning he made the choice of hiring family members and close friends to support him. As a sign that he treats his crew well, most of his staff has been with him for over twenty years. In 2001 his son, Noah, who grew up working in the business, became a full partner. Complimenting each others skills, they make an awesome team.
In 2002 he retired from General Motors (now Delphi) with 30 years of faithful service. Art is a member of the Michigan State Auctioneers Association and the National Auctioneers Association. He was inducted into the MAA Hall of Fame at their annual conference in Lansing, Michigan on February 2, 2007.