Thomas H. Wiltjer
HALL OF FAME
Thomas H. Wiltjer, CAI, AARE, GPPA
2002 MAA Hall of Fame Inductee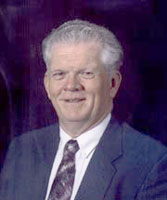 The Michigan State Auctioneers Association bestowed a great honor upon the family of Thomas H. Wiltjer of Grand Rapids, MI. Tom was given the highest honor of the state association, when he was inducted in the MAA's distinguished Hall of Fame on January 25, 2002 at the annual convention in Frankenmuth, MI.
He graduated from Reisch World Wide College of Auctioneering in Mason City, Iowa in 1984, was the President of the Michigan State Auctioneers Association in 1998 and a director before that, a graduate of the Certified Auctioneers Institute in 1994, earning his CAI Auctioneer Designation. He earned his Accredited Auctioneer of Real Estate (AARE) designation in 1994 and his Graduate Personal Property Appraiser (GPPA) designation in 1999.
Tom was challenged by the board as a young board member to get the National Convention (1994). He went all out, pampered the national delegates, campaigned heavily at the convention…and won. This earned him the spot as the National Auctioneers Association (NAA) 50th Anniversary National Chairman for 1999. Tom was a licensed Auctioneer in Indiana and Ohio and a licensed Real Estate Salesperson in Michigan.
Prior to relocating to Grand Rapids, he was a member of East Jordan Rotary Club & Served on the Board of Directors. He was also involved in the following organizations: East Jordan Snowmobiler's Inc – Vice President, President and Board Member.; Michigan International Snowmobile Association – Served on the Board of Directors; President of East Jordan Chamber of Commerce; South Arm Township Board of Review; DNR Volunteer Deputy. Tom was an Avid Hunter & Fisherman – He loved boating, water skiing, sailing, snowmobiling, cross country skiing, and horse showing.
Tom was heavily involved in showing Quarter Horses with his family for over 25 years. He was a Member of the Northern Michigan Quarter Horse Association, the Michigan Quarter Horse Association, the Michigan Quarter Horse Association Father of the Year, Member of American Quarter Horse Association and National Snaffle Bit Association.
Tom was directly involved in the Construction Industry since 1950. Earlier as an excavator and builder, and later as a salesperson and auctioneer of construction equipment. He was a Licensed Builder & Contractor, owner and President of Tom Wiltjer, Inc., an excavating and paving company.
Tom earned many awards including the Grand Rapids Home Town Hero in 1994. He was a finalist multiple times for the Michigan State Auctioneers Association Bid Calling Championships. Tom and his auction company also won Multiple State & National Advertising & Photo Awards. Educating Auctioneers was a big part of Tom's involvement with the association. Not only was he a seminar presenter, statewide and nationwide, he sponsored many members into the MAA and the NAA and was always open with advice and assistance to the new auctioneer. One of his passions the last few years was lobbying for state licensing for auctioneers. His work is being continued by the MAA and their legislative committee.
Tom and his auction company, TWI Auctioneers & Appraisers, have set up and conducted Auctions of Heavy Construction Equipment, Industrial Plants, Commercial Facilities and Real Estate across the United States (totaling Millions of Dollars). Always conducted his auctions, his business and his life with the highest ethical standards in mind.
Tom's unexpected passing in December 2000 was a huge loss for his family, friends, and profession. Tom was extremely proud to be an auctioneer and loved the work that he put into the association and profession.
Tom Wiltjer's business traditions of excellence are being carried on by his family and crew. Tricia D. Wiltjer, Tom & Nancy's daughter, has taken the helm as President of the corporation, Tom Wiltjer Inc. and TWI Auctioneers & Appraisers. Tricia graduated from Grand Valley State University with a Bachelor's degree in International Business and a Master's degree in Business Administration. As well, she is a graduate of Texas Auction Academy and works daily to better their company. She is also the Executive Director of the Michigan State Auctioneers Association and works to better the auction industry and uphold the ethical standards her father set forth.