Brent Belcher
Brent Belcher
2000 MAA Hall of Fame Inductee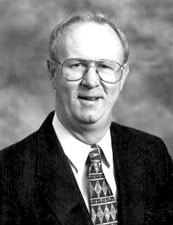 On January 29, 2000 at the Michigan State Auctioneers Association's annual meeting, Brent Belcher was inducted into the Auctioneer's Hall of Fame. Mr. Belcher's family including his three grandchildren were on hand for the surprise presentation. (He had been told that this father would be receiving a special award) Mr. Ed Belcher, Brent's father and also a member of the Auctioneer Hall of Fame, was on hand to present the special award to his son.
Brent is a third generation auctioneer. He started clerking and setting up auctions for his father, Ed Belcher while attending college. He called his first sale at the age of 20 and has been a full time auctioneer ever since. The late Harold Belcher established Belcher-Dingman-Spaulding Auctioneers in 1919. Prior to WWII, Ed Belcher joined his father in the auction business. Then in the early 1960's, Brent joined his father, making it a three-generation business. A fourth generation was added when Brent's son, Kevin, joined up in 1980. Brent is a member of the Indiana Auctioneers Association and the National Auctioneers Association as well as being a past President of the Michigan State Auctioneers Association.
In a letter to the selaection board, his son, Kevin Belcher wrote: "To my knowledge, my father has never refused to donate his time and talents to any church or charitable organization that has asked for his help in putting on an auction. He has sold countless Ducks Unlimited and Pheasants Forever sales throughout the state. Dad has sold at 30 of the past 34 Calhoun County 4-H livestock auctions which have set 3 world records. He has also helped at the Eaton County 4-H livestock sale for the past few years. He donates not only his expertise but also his time and energy helping 4-H members.
Brent helped organize and has served on the steering committee as well as selling the annual Oaklawn Hospital Benefit auctions since their inception. Much of the new equipment in our local hospital is bought with the money generated by this annual event.
Kevin states further, "Besides being an excellent auctioneer, my father is very civic minded. He has served on the Marshall Area Economic Development Council, Calhoun County Fair Advisory Committee, Michigan National Bank Board of Directors, member and past president of the marshall Lion's club, donates equipment for the ACS Relay for Life and works on and participates in the Star Commonwealth for Boys fund-raiser selling their annual auction at the conclusion of the event. He is also an active member of the United Methodist Church in Marshall. The family and his auction staff are very proud of him because he is known for his "uncommon" common sense and most of all, his integrity is above reproach."