Herbert Albrecht
HALL OF FAME
Herb Albrecht, CAI
2000 MAA Hall of Fame Inductee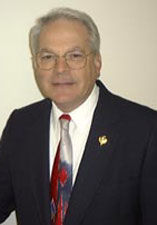 Herb Albrecht never planned on being an auctioneer, but started working with his father in 1967. He decided that he would make auctioneering his profession and went full time into the business in 1973 and worked with his father until his death in 1975.
In 1973 he joined the MAA and over the years served all positions. He and his wife have enjoyed the association and new friends met through conventions which is why they have only missed one convention since joining in 1973 (27 years ago). He was the President of the MAA in 1979 and won the Bid Calling Championship in 1989.
In 1975 he joined the NAA and started attending the conventions. He also has a pretty good track record there by only missing one National convention since joining in 1975. He was a NAA Board of Director from 1987-1990 and has also served on the CAI Board of Governors.
He is an active member of the Pineview Mennonite Church in Vassar.
He is an active member of the Gideons and a Rotarian and has conducted the Rotary Club's annual benefit auction for the past 15 years as well as donating his services to countless other worthwhile causes.