Hall of Fame
BRIAN BRAUN INDUCTED INTO THE MICHIGAN AUCTIONEERS HALL OF FAME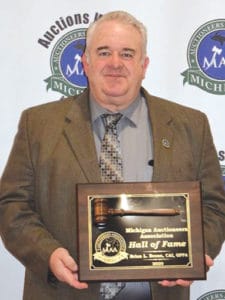 Ann Arbor Auctioneer, Braun Braun, who is in his 25th year as a professional auctioneer with Braun & Helmer Auction Service, has been enshrined into the Michigan Auctioneers Association Hall of Fame. The prestigious honor is bestowed after a rigorous qualification process and ultimately voted by the Hall of Fame committee. Being inducted into the Hall of Fame is the highest honor any auctioneer can receive in the auction industry.
"There were several qualified candidates that were nominated as candidates into the Michigan Auctioneers Association Hall of Fame. However, only one candidate is chosen for the prestigious award. The Hall of Fame Committee chose Brian Braun due to several qualities that he possesses. This includes but not limited to; his impeccable reputation within his community and the auction industry, his generous charitable contributions, serving the general public in the service industry for a quarter-century and being nominated by his peers in the auction business." Said Executive Director and fellow Hall of Famer, Tricia Wiltjer.
Brian Braun is a second generation auctioneer, the son of Lloyd R. Braun who started Braun and Helmer Auction Service in 1971 with his friend, Jerry Helmer. Brian's first experience with auctions was helping his dad at auctions and attending Michigan Auctioneers Association Conferences as a kid. After Brian graduated high school in 1984, he attended Ferris College. However, like many auctioneers, he decided college was not for him. He left school and started a very successful landscaping and stump removal business and worked at that along with helping at auctions for several years.
In 1996, Brian decided he would pursue a career in the auction business, so he attended Missouri Auction School with Jerry's son and his friend, David Helmer. Right after returning, Brian's Dad put him to work on the auction block and he has never looked back. For over 30 years he and his partners have grown the business to be one of the most respected and sought after auction companies in Michigan. With the success of the business, in 1997 he was able to purchase the Centennial Farm of his Grandparents, where he lives now. His love of the farm and everything country is evident in the pride he takes in keeping up his property, everything painted, roofed and kept up.
Brian's hectic auction schedule leaves little time for other things, but he always finds time to give back to his community presenting at the local Historical Society and sharing his vast knowledge of antiques, collectibles and farm primitives. With a special interest the past few years of all things, fruit jars!! He has a very impressive collection of antiques, tractors, truck & autos which would be enough to open a very nice farm museum.
Brian Braun is life member of the Michigan Auctioneers Association, a member of the National Auctioneers Association and holds the Graduate Personal Property Appraisal designation. He has served on the MAA Board of Directors and has donated well over $35,000 to the association fund raiser auction, which includes the famous Memorial deer hunt at his farm. Each year since 2004 this hunt has been the highlight of the auction, including this year where spirited bidding topped out at $3500.
He also finds time to spend with his family and hosts many family get-togethers at the "Pole Barn" locally known as the place to be for deer season and generally a great place to hang out. Brian enjoys hunting and travels with other MAA Members to hunt Elk, Antelope, Deer, Coyote and Moose. When not in the woods hunting animals, Brian can be found hunting for morel mushrooms, finding sheds and taking pictures. He also enjoys processing, smoking and canning many of his home grown foods and many MAA Members can attest that he is an accomplished wine maker.
He now joins is Father and both of his partners as MAA Hall of Fame Members. Lloyd Braun passed away several years ago, but Brian, David and Jerry are still taking the auction industry by storm, conducting hundreds of auctions every year. To highlight the significance of the honor, since 1951, thousands of auctioneers have become members of the Michigan Auctioneers Association. Only 41 are enshrined into the Hall of Fame, with Brian Braun being the 2020 inductee.