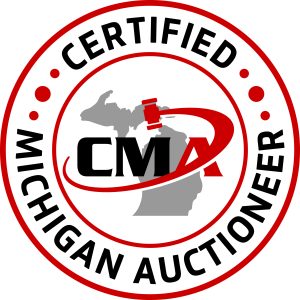 MICHIGAN AUCTIONEERS ASSOCIATION CELEBRATES INAUGURAL CLASS OF CERTIFIED MICHIGAN AUCTIONEERS
GRAND RAPIDS, MICHIGAN– In a ceremony in Mt. Pleasant, Michigan, 24 professional auctioneers made history with becoming the first ever to be awarded the professional designation of 'Certified Michigan Auctioneer' by the Michigan Auctioneers Association.
The following auctioneers are official Certified Michigan Auctioneers.
Herb Albrecht – Vassar, Michigan
Brent Belcher- Marshall, Michigan
Gwyn Besner- Acme, Michigan
Wayne Blair- Zeeland, Michigan
Brian Braun- Ann Arbor, Michigan
Daniel Burns- Comstock Park, Michigan
Jerry Cole-  Beulah, Michigan
Mike Furlo-  Midland, Michigan
David Helmer- Saline, Michigan
Jerry Helmer- Saline, Michigan
Frank Leist-  Boyne City, Michigan
Wade Leist- Boyne City, Michigan
Kenny Lindsay- Milford, Michigan
Scott Miedema- Byron Center, Michigan
Sid Miedema- Byron Center, Michigan
Richard Montgomery- Plymouth, Michigan
Tim Narhi – Byron, Michigan
Beth Rose- Maumee, Ohio
Joe Sherwood -St. Louis, Michigan
Art Smith – Cedar Springs, Michigan
Lee Smittendorf – Fulton, Michigan
Tricia Wiltjer – Grand Rapids, Michigan
Leroy Yoder – Clare, Michigan
Willis Yoder- Shipshewana, Indiana
For an auctioneer to achieve the Michigan Certified Auctioneer designation, candidates must submit evidence of meeting or exceeding the rigorous certification requirements. Candidates must:  Have conducted at least 100 auctions in their professional career. Received a minimum of ten Letters of Recommendation from satisfied customers. Complete at least 50 hours of demonstrating specialized knowledge and advanced auction education –or- evidence of being an auction industry instructor. Have served on a committee or held an elected office within the past 10 years with the Michigan Auctioneers Association. Competed in at least three state and/or national competitions and passed a written test and oral interview by the MAA Certification Committee.
Certifications are valid for one year. For recertification, MAA has developed a maintenance model that focuses on continuing competence of the Certified Michigan Auctioneer. This new "Maintenance of Certified Michigan Auctioneer" model includes the following elements: Professional standing in the Michigan auction industry, commitment to lifelong learning through professional development, practice performance through examples of expertise through a test of knowledge in the profession.
The Michigan Auctioneers Association established CMA as the governing body that awards certification to professional auctioneers who meet approved requirements. The Michigan Auctioneers Association oversees the Certified Michigan Auctioneer certification and maintenance of certification programs and awards certificates to MAA auctioneers who meet requirements.
# # #