Gwyn Besner, MAA Hall of Fame 2014
Gwyn Besner, CAI, AARE
2014 MAA Hall of Fame Inductee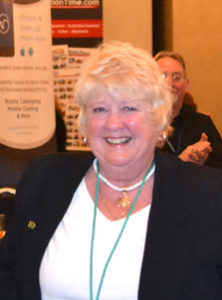 Gwyn Besner was inducted into the Michigan Auctioneer Hall of Fame on January 29, 2014 at the Michigan Auctioneers Association Annual Conference in Lansing.
Gwyn has been an auctioneer since 1982 and a certified Auction and Real Estate Instructor since 1994. Six years ago, she created her own highly successful proprietary school, The Acme Institute. Gwyn's education includes Delta College, University of Michigan, World Wide College of Auctioneering, Certified Auctioneers Institute and Auctioneer Accredited in Real Estate.
She wanted to buy a PA so she got her dealers license and talked a couple of other auctioneers into buying one too so she could buy enough to become a dealer, then she also started selling PA's. Later on she went to real estate school, obtained her broker's license and became a teacher. She taught for Holloway's Institute for year before starting her own school. She has helped thousands of students get their salespersons and brokers licenses. Many of Gwyn's classes focus on Auction law and helping Auctioneers expand their knowledge of the real estate market. Gwyn's boundless energy and enthusiasm for her professions are legendary. Teaching, lobbying at the state level, constantly updating her professional data base and donating countless hours of her time for the causes she believes in are all what makes Gwyn Besner who she is. Gwyn's love for the auction profession could only be overshadowed by her love for music and her grandchildren.
She's served on the Michigan Auctioneers Association board of directors for 14 years, including time as the Secretary/Treasurer and VP. She also serves as the chair of the Michigan Auctioneer Registration Board. Although her focus has been on teaching, she is still very active in auctions and referrals in Michigan. Gwyn has come a long way since her first auction in 1982 and, at one time, was the only woman on the Michigan Auctioneer's Association. Now she is the first woman honored with a place in the Michigan Auctioneers Hall of Fame.