METRO DETROIT AUCTIONEER RECEIVES HIGHEST INDUSTRY HONOR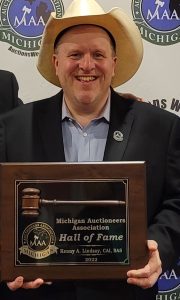 MT. PLEASANT, MI. – New Hudson, Michigan auctioneer Kenny Lindsay, who is in his 25th year as a professional auctioneer with American Eagle Auction & Appraisal Company, received the highest honor bestowed to the professional auctioneer. Lindsay was inducted into the Michigan Auctioneers Association Hall of Fame on January 27 at the Michigan Auctioneers Association Annual Conference. He is the 42nd auctioneer inducted into the Michigan Auctioneers Hall of Fame since its inception in 1951.
"Through his contributions as a leader in the auction industry, Lindsay's work and legacy have created long-lasting benefits to the Michigan Auctioneers Association and the auction industry alike," said Executive Director and fellow Hall of Famer Tricia Wiltjer.
Lindsay was instrumental in creating numerous industry-changing ideas. In 2009, Lindsay started the Michigan Auctioneers Association's Public Promotions department. Two years later,  he introduced the grassroots 'Auctions Work!' marketing campaign, which proved to be a phenomenal marketing strategy adopted by thousands of auctioneers, including the National Auctioneers Association. USA Today reported, "Succinct and powerful, the message's staying power has been evident from the outset."
Lindsay identified the critical need to educate professional auctioneers to be mindful that hundreds of local municipalities throughout the State of Michigan require auctioneers to be licensed or obtain a permit to conduct auctions. In 2015, Lindsay proposed and presided over a comprehensive guide that provides data to the professional auctioneer on the rules and regulations in specific municipalities in the state of Michigan to conduct auctions.
Lindsay is the 2015 recipient of the MAA's Garth Wilbur Presidential Award of Distinction awarded to the "most influential" association member. In 2019, he became the Champion of the Michigan Ringman Championship.   Over the past 20 years, Lindsay has been a guest speaker at numerous industry events, including the National Auctioneers Association Annual Conference & Show. He has also competed in the International Auctioneers Championship on three occasions. In 2015, he was featured in the 'The Legends' of auctioneering trading card set released by the Michigan Auctioneers Association.
For more information about Kenny and American Eagle Auction & Appraisal Company, visit www.michiganauctioncompany.com or call 734-223-3277.