Benjamin P. Glardon, Hall of Fame
2012 MAA Hall of Fame Inductee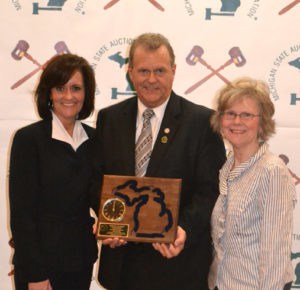 Ben Glardon was born and raised in the Auction Business with Glardon Auction Service, that his father started over 70 years ago. He has lived and breathed the auction method of selling for over 40 years. He has conducted a wide cross section of auctions annually, including farm equipment, real estate, bankruptcy, estates, business liquidations, personal property collections, guns, coins, fundraisers, benefit auctions and more.
Ben is a graduate of Missouri Auction School in 1979. He has been a licensed Realtor since 1983 and is the past President of the Shiawassee Association Board of Realtors. He was honored to receive the Shiawassee County Realtor of the Year and the Re-Max Hall of Fame. He is also a past President of the Shiawassee/Owosso Kiwanis' Club. Ben is the President of Glardon Auction Service and a past Director of the Michigan State Auctioneers Association.
Ben was elected to the Michigan House of Representatives for the 85th District in 2010. He currently serves on the House Agriculture, Insurance and Commerce Committees. He also serves as Vice Chair of the Transportation Committee.
The Michigan State Auctioneers Association was honored to induct Benjamin P. Glardon into its Hall of Fame on January 26, 2012. Ben was asked to speak to the association members about his experience in the State House of Representatives to kick off the Michigan Auctioneer Championships. He was surprised by the MAA by being presented with the Hall of Fame induction. Ben said "I am honored to receive this award on behalf of my entire family who has worked so hard to be successful. The Auction world has truly been my passion."