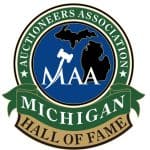 MAA Hall of Fame Award Nominations
Anyone wishing to nominate a person for the Hall of Fame may do so by filling out this form and sending it to the MAA office. The Hall of Fame committee is comprised of Hall of Fame members. Those who are selected by the committee are inducted into the Hall of Fame at the next annual meeting the following year. To be considered for the Hall of Fame membership, a person has to be active or have been active in both the auction profession and the association for a great number of years. Feel free to use additional paper for supporting information. We encourage your participation!
Nominee will remain on the ballot for three (3) years. If not elected, they will be removed from the ballot and are eligible to be nominated again after two years. Any subsequent applications receiving during the 3-year period will be attached to the original.
Download Nomination Form HERE.
Want to see more about the MAA Hall of Fame?  Click HERE.
Applications must be received by August 15 each year.
Mail nominations to:
Michigan Auctioneers Association * 4529 Gibbs NW, Grand Rapids, MI 49544-9719
PHONE (616) 785-8288 * FAX (616) 773-1375 * info@msaa.org
www.FindMichiganAuctions.com