Leroy Yoder
2018 MAA Hall of Fame Inductee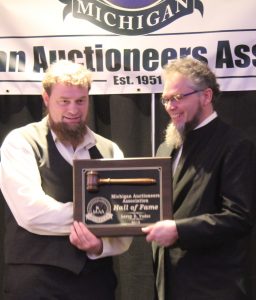 On February 2, 2018 at the Michigan Auctioneers Association Annual Conference President's Ball, Leroy Yoder was given the highest honor an auctioneer can receive by being inducted into the MAA Hall of Fame.
As a little boy, growing up on a dairy farm, Leroy Yoder always enjoyed practicing auctioneering. His mother always told him he should be an auctioneer as she thought he talked too much and asked too many questions. Leroy and his brother Willis always talked about going to auction school, and when old enough, they did. Leroy attended Reppert Auction school in 1993. Their first auction was their Dad's farm auction. They also helped a local auctioneer sell antiques when they first got started. They found there was more to the auction business than standing on a ladder and calling bids on sale day.
Leroy and Willis still work together on their larger auctions, since Willis moved to Indiana a few years back. Leroy continues the business with his family and enjoys working with other auctioneers. He conducts auctions of all types, including cattle, farm, estates, benefits and more. They conduct consignment auctions every year, which have grown to host 800 sellers and over 3000 buyers.
Leroy is a member of the National Auctioneers Association and a Life Member of the Michigan Auctioneers Association. He is very dedicated to the Michigan Auctioneers Association, serving on the board of directors and leading the Benefit Auction Committee, which just hosted the largest auction the MAA has ever had. Leroy is the 1996 Michigan State Auctioneers Association Bid Calling Champion, the MSAA's first Pennsylvania Dutch Bid Calling Champion, held in Shipshewana, Indiana at the Midwest Auctioneers Roundup, the 2013 Michigan Ringman Champion, and the 2013 Super Summer Slam Down Bid Calling Champion. He has also served on his local school board and completed his appraisal certification.
In his spare time, Leroy loves to hunt, fish and camp with his family. He hosts a Snow Shoe Hare Hunt and participates in many other events in his area. Leroy lives in Clare, Michigan with his wife, Lydia Ann, and their 6 children.