SID MIEDEMA HONORED WITH THE MICHIGAN AUCTIONEERS PRESIDENT'S AWARD OF DISTINCTION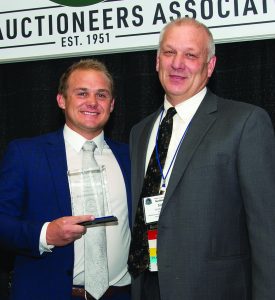 PLEASANT, MICHIGAN – In a room packed with hundreds of his friends, family, and professional colleagues, Sid Miedema, an esteemed business owner, and professional auctioneer, was awarded the annual President's Award of Distinction. The annual recognition is awarded by the President to the "most influential member of the Michigan Auctioneers Association."
Sid Miedema co-founded Miedema Auctioneering in 1984. Today, Miedema Auctioneering has grown into Miedema Asset Management Group, which consists of Miedema Auctioneering, Miedema Appraisals, Repocast.com, Orbitbid.com, LastBidRealEstate.com, OAS, RangerBid.com, SSL Corp LLC, and OrbitBidCharity.com.  Annually, the companies conduct over 500 auctions and appraise millions of dollars' worth of assets. He is a licensed real estate broker and is regularly sought after to conduct educational seminars for his colleagues throughout the United States.   Currently, Sid Miedema serves as the President of the National Auctioneers Foundation.
Sid Miedema is a first-generation auctioneer who served on the Board of Directors and became President of the Michigan Auctioneers Association in 1992. He was crowned the grand champion of the Michigan Auctioneers Championship in 1995. In 2005, he received the highest honor of his professional career by being inducted into the Michigan Auctioneers Association Hall of Fame.
Sid is a great businessman who puts his employees, clients and customers first.  He taught his children work ethic by getting them up early to go to auctions and like many auction kids, running clerk sheets as early as age 5.  He has taught his family and employees the importance of being a member, attending conferences, taking something back with you, and implementing them. "….being honest, and a Christian is more important than making money. He is very involved in the church, Christian schools, and many other organizations. He is a great role model and Christian example, and someone I look up to and truly aspire to be like." Said his son and the 2022 President of the Michigan Auctioneers Association, Jordan Miedema, CAI, CMA.
*  *  *
Established in 1951, the Michigan Auctioneers Association is dedicated to enhancing Michigan's Auction Industry through education, promotion, advocacy, and networking. The MAA is the professional association for auctioneers in Michigan, continuing to be one of the leaders in the industry, and is proving to continue in that direction in the future.  The Michigan Auctioneers Association is the most significant representation of auctioneers in Michigan, providing a forum for networking, and sharing ideas and experiences.  For more information about the Michigan Auctioneers Association and the auction industry in Michigan, log onto www.FindMichiganAuctions.com.
###