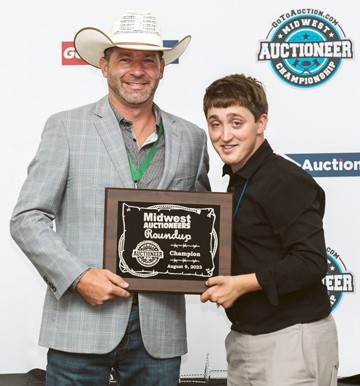 JOHN BEECHY WINS COVETED GOTOAUCTION.COM MIDWEST AUCTIONEER CHAMPIONSHIP
BYRON CENTER, MICHIGAN – Professional auctioneer, John Beechy from Goshen, Indiana took top honors at the GoToAuction.com Midwest Auctioneer Championship – one of the most popular auctioneer competitions in the nation.
As one of the most recognized auctioneer voices of the Midwest, growing up in Northern Indiana sale barns among the Amish culture, John was inspired to become an auctioneer. John Beechy began his auction career in 2009, after graduating and becoming a licensed Auctioneer from Reppert Auction School located in Auburn, Indiana.
As a resident of Goshen, Indiana, John travels to sell whole-sale automobiles, special classic and collector cars, memorabilia antiques, equipment, and livestock. John conducts over 250 auctions per year, specializing in contract auctioneering. John has effectively surrounded himself among other successful auctioneers, and leaders. John has earned several titles, such as: 2013 Indiana Auctioneer championship, the 2014 Michigan Ringman Champion, the 2016 Michigan Auctioneer Champion. John has competed for several years in the GotoAuction.com Midwest Auctioneer Championship, finishing in the finals several times.
Among other achievements, John has served on the Indiana Auctioneer Association Board of Directors from 2013-2016. Additionally, he has achieved the highest designation an auctioneer can receive in 2019 from the Certified Auctioneers Institute, and Contract Auctioneer Specialist provided by the National Auctioneers Association.
Being a member of Indiana, Michigan, and National Auctioneer Association, allows John to be continually up to date on auction industry changes. John serves annually as an auctioneer for many charity events, such as Opportunity Enterprise, Crohns Disease Foundation, and Connection for Abusive Women and Children Foundation.
Since 2015, John is a quarterly teacher at the Reppert Auction School. This gives him the opportunity to give back to the auction profession that originally inspired him. Among auctioneering, John enjoys the lake, golf, and time with family and friends.
The GoToAuction.com Midwest Auctioneer Championship saw a field of 31 top-quality auctioneers from around the Midwest competing for the title of the Grand Champion of the coveted auctioneer championship. The championship was held in conjunction with the Midwest Auctioneers Roundup hosted by the Michigan Auctioneers Association. The highly esteemed auctioneer championship saw five finalists including Omer Kauffman of Fountain City, Indiana (5th place), Merlin Hershberger of Navarre, Ohio (4th place), Keith Beechy of Dundee, Ohio (3rd place), Jeremy Garber of Circleville, Ohio (2nd place) and of course, the Champion John Beechy. All finalists received a plaque commemorating their achievement and a cash prize.
The GoToAuction.com Midwest Auctioneer Championship was broadcasted live to a worldwide audience. If you missed it, the videos are available on www.youtube.com/michiganauctioneers. "This is a unique competition in the sense there isn't much in the way of rules – other than they must wear a hat, any hat, and sell what they are selling within a two-minute time frame. Contestants are scored exclusively on their real-world auction chant – and man, do they put on an authentic show!" Said GoToAuction.com co-founder and Marketing Director, Kenny Lindsay, CAI.