Willis Yoder wins Michigan Ringman Champion 2017 and is Inducted into the Michigan Auctioneers Association Hall of Fame!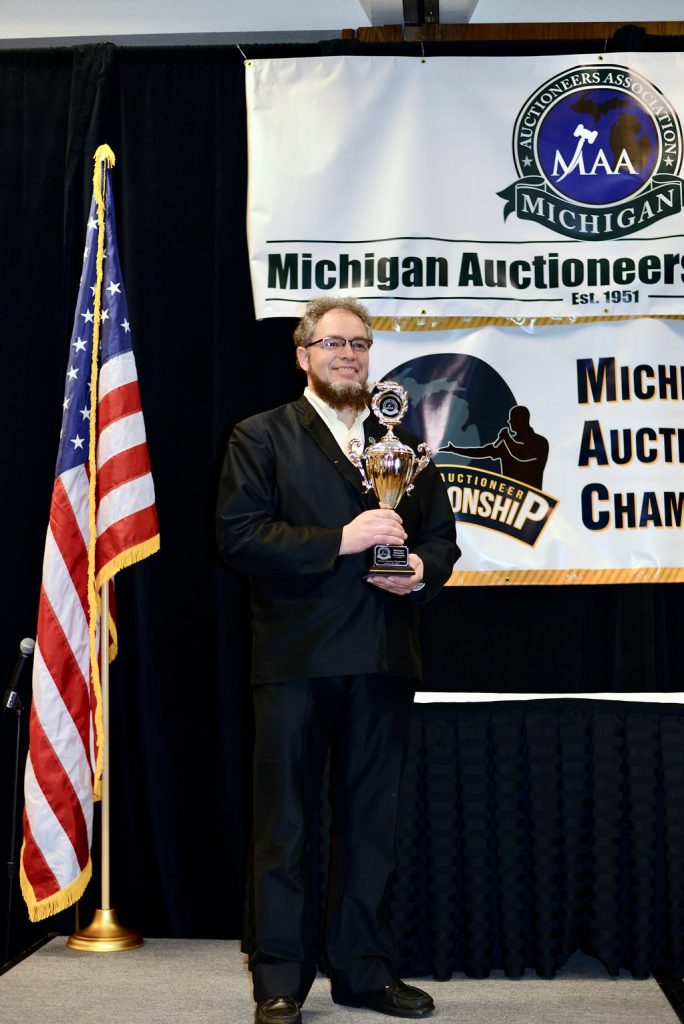 Traverse City, Michigan – Auctioneer Willis Yoder of Shipshewana, Indiana had a great weekend at the Michigan Auctioneers Association Annual Conference in Traverse City.  He was awarded the honor of the 2017 Michigan Ringman Champion on January 20 at the Michgan Ringman Championship.  A field of 7 contestants from Michigan, Indiana and Ohio entered the competition.  Also taking home honors were Eli Troyer and Kelly Merryman.  Troyer was the 1st runner up and Merryman was the 2nd runner up.
The next evening, Willis received the highest possible honor any auctioneer can receive, by being inducted into the Michigan Auctioneer Hall of Fame.
As a boy growing up on a dairy farm in central Michigan, one of the highlights was going to the major draft horse sales and listening to some of the country's top auctioneers.  This inspired him to go to Reppert School of Auctioneering in 1991, where he earned his diploma in auctioneering.  It was also common to hear him practicing his auction chant in the silo at chore time where no speaker was needed, or on the plow every time you passed a fence post it was another bid.
After returning from auction school he contacted a local auction barn asking if they could utilize his help if he would donate his time.  They accepted the offer.  He would head out on his bicycle and pedal the 25 miles to the auction, work the ring until 7 p.m. and was called to the auction block where he sold until almost midnight.  And sure was grateful to hitch a ride home with a friend, saving a 25 mile midnight ride.
He was also instrumental in getting his little brother excited to attend Reppert School of Auctioneering in 1993 and becoming a member of the M.A.A.  And in 1994, formed Yoder Brothers Auction Service.  Their first auction was their dad's farm auction in April of 1994 with 40 head of dairy cattle, draft horses and farm machinery.  They now conduct a huge consignment auction twice a year with farm machinery and misc. outdoor being a two day auction event with four auction rings selling both days, attracting 1500 to 2000 bidders in two days.  The horse and carriage auction is held on the first Saturday in May with approx. 300 head of horses and 100+ carriages.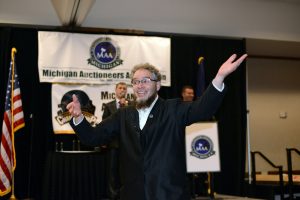 In 2003, seeing a need and opportunity for custom built cashiering trailers and auction toppers he was the founder and co/owner of Kuntry Custom R.V. Cashiering Trailers and Auction Toppers.  And currently designs and builds various sizes of aluminum frame portable auction podiums along with his walnut auction gavels.
Willis currently can be found selling at Shipshewana Antique Auction every Wednesday.  And helps little brother with the larger auctions and consignment auctions in Michigan.  He also works as a contract auctioneer for other auction companies.
Willis is also the 2012 Super Summer Slam Down Bid Calling Champion, the 1997 Michigan State Auctioneers Association Bid Calling Champion, the 2004 and 2005 Indiana State Reserve Champion, a 2 time finalist in the International Auctioneers Championships, and the 2011 Pennsylvania Dutch Bid Calling Reserve Champion.  He is a past MAA director, a 2002 graduate of the Certified Auctioneers Institute, and a 2011 Graduate of the Professional Ringman's Institute.  He has been involved in more than the auction side of the auction business, building cashier trailers and truck toppers.  Currently, in addition to conducting auctions, he supplies several different types of auction podiums to the auction industry.  He loves to hunt, fish, go camping and ride horses.  Willis lives in Shipshewana, Indiana with his wife and five children.