Jerry Cole
2017 MAA Hall of Fame Inductee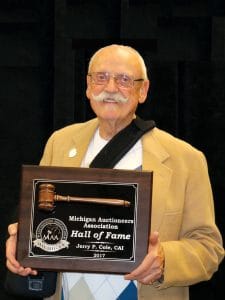 Traverse City, Michigan – Auctioneer Jerry Cole of Beulah, Michigan, received the highest possible honor any auctioneer can receive, by being inducted into the Michigan Auctioneers Association Hall of Fame.
Jerry Cole always loved antiques. At an early age, he and his father would go picking on trash day and reclaim, repurpose and refinish antiques that they would find. After his junior year in High School, he volunteered to join the army but had to have his parents sign a permission slip to enlist as he was not yet 18. He served two years in Korea and 2 years in Vietnam. After his army years he held several different jobs. From auto body to excavating to long haul trucking for many years. He has also been a barber for over 40 years. Jerry said, " I always enjoyed giving a good haircut as I didn't have any of my own to enjoy."
After he and his family moved back to Michigan, his wife, Mary Jo, was working at a local hospital and he spent his time refinishing antiques and selling them in antique shops. Auctions were the hot topic at the local antique shop. Jerry was intrigued, so in 1990, he and his friend decided to go to Reppert School of Auctioneering.
He found out quickly that being a first generation auctioneer, he was going to have to ask for help. Joining the Michigan Auctioneers Association proved to be the most beneficial tool to becoming a professional auctioneer. He learned quickly from other auctioneers and made lifelong friends.
After his family moved to northern Michigan, he grew his business and planted its roots, including building an auction house, conducting estates and consignment auctions throughout the year. Each year saw growth in his business and he always reinvested back into education and technology. His son, Grant, joined the business early on and runs it to this day, now specializing in Sports Collectibles. Grant's two children, Harper and Wyatt, are also growing up in the business. His young daughter, Harper has already spent some time on the microphone calling bids.
Jerry earned his Certified Auctioneers Institute(CAI), Accredited Auctioneer of Real Estate (AARE), and Graduate Personal Property Appraiser (GPPA) designations. He has been a successful auctioneer for over 20 years and has conducted over 1000 auctions in his career. He has sold everything from antiques to real estate, benefit auctions to local 4H and Boy Scout Fundraisers, and everything in between. Jerry gave back to the association he loves by serving on the MAA Board of Directors and serving as the MAA President in 2001. As soon as the program was offered, he committed to the MAA by becoming a Life Member. He has a passion for the auction profession and the MAA holds a special place in his heart.