MICHIGAN AUCTIONEER CHAMPIONSHIP
Eli Troyer
Michigan Auctioneer Champion 2017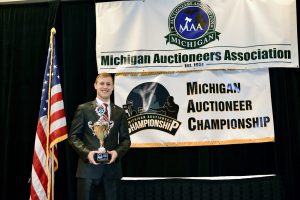 Traverse City, Michigan – Eli Troyer of Applecreek, Ohio won the title, Michigan Auctioneer Champion at the Michigan Auctioneer Championship.  The Championship was held on January 20 at the Michigan Auctioneers Association Annual Conference held at the Grand Traverse Resort and Spa in Acme, Michigan.  13 Contestants competed for the coveted title.  The 5 Finalists were Ridge Bollheimer (Clarklake, Mich.), Grant Cole (Beulah, Mich), Frank E. Leist (Petoskey, Mich.), Eli Troyer (Applecreek, Ohio), and Scott Vander Kolk Jr (Dorr, Mich.).  For winning the title, Eli received a championship ring, trophy, and entry into the International Auctioneer Championship in July in Columbus, Ohio.
Also taking home honors were Grant Cole and Ridge Bollheimer.  Cole was the 1st runner up and Bollheimer was the 2nd runner up.
Eli Troyer is a full time Auctioneer/Real Estate Salesperson. Licensed in Ohio, Pennsylvania & West Virginia. Eli sells Residential, Commercial, Recreational and Agricultural Real Estate. He also sells Equipment, Livestock, Automobiles, Antiques, Estates, & numerous types of Business liquidations across these states and Michigan. Graduating from the Ohio Auction School in 2013, Eli is also the 2016 Ohio (Jr Division) Champion. Furthermore Eli is a member of the (NAA) National Auctioneers Association, (OAA) Ohio Auctioneers Assoc., (MAA) Michigan Auctioneers Assoc., and (WVAA) West Virginia Auctioneers Assoc. Eli is 3rd generation in the auction business, but a 1st generation auctioneer and lives in Applecreek, Ohio.
Eli enjoys business and is very passionate about the auction business. He also loves being around people and building relationships. In his spare time you can find him doing outdoor activities, helping out at church or spending time with his wife.
Eli is humbled and honored to be named the 2017 Michigan Auctioneer Champion. He looks forward to representing the Michigan Auctioneer Association at the 2017 NAA Conference and Show in Columbus in July.