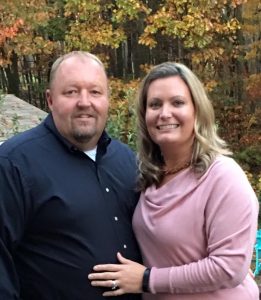 Chuck Ranney, of Coopersville, Michigan was elected President of the Michigan Auctioneers Association at their annual conference on January 20, 2017. Chuck had previously served as the Vice President and has held a chair on the Board of Directors s
ince 2014.
Chuck's father, Jim started in the auction business in 1973, working in the Nashville, TN area for several years. Jim worked in and out of the auction business for several years. He moved to Michigan, where he worked for Don Brink at Hamilton Auction Company with Tom Wiltjer, Tricia Wiltjer's father. He also helped Sid Miedema for several years. After leaving the industry again, he knew his passion was the auction industry and came back to work for Sid and Scott Miedema in 2002, where he has been ever since!
Chuck's previous work career ranges from tow truck driver and mechanic, to service manager, and tire shop owner. In 2004, Chuck was introduced to the auction business when he was hired by Miedema Auctioneering to set up auctions. Chuck set up auctions for about 4 years before he decided he wanted to call bids. Scott Miedema bought him some tapes and books and told him to start practicing! Chuck had just begun practicing and getting the hang of things, when Hib Kuiper and Doug Heuker put him on the spot at an auction. He had no choice but to call the bids when Hib and Doug dropped the microphone on the ground, told him it was his turn, and walked away! Chuck has been a full time auctioneer and ringman ever since.
Chuck's knowledge and experience gleaned from prior jobs helped to make him a well rounded, knowledgeable auctioneer. Chuck specializes in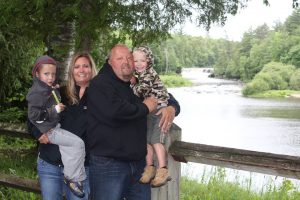 live auction events consisting of construction equipment, industrial equipment, farm equipment and real estate. Chuck has traveled across the U.S. providing critical leadership and management of many high profile auctions, liquidating millions of dollars of assets. Chuck also devotes his time to charity events, calling bids at benefit auctions about 10-15 times per year.
Much of Chuck's success has come not only from his dad, but also Doug Heuker, Hib Kuiper, Sid Miedema and Scott Miedema. Not only did they give him the opportunity, they kept encouraging and believing in him.
Chuck and his wife, Shannon, have been married for 10 years. They have two boys who love to wear Miedema Auctioneering clothing and match their dad. Dylan is 8 years old and Max is 6. When they are not working, they enjoy camping and spending time with family.
If you have any questions or concerns regarding the association, please contact Chuck Ranney (616) 560-0839 or chuck@1800lastbid.com.
Photo Credit: Jane Harris Photography