Wade Leist, Michigan Auctioneer Champion 2015
Wade Leist
Michigan Auctioneer Champion 2015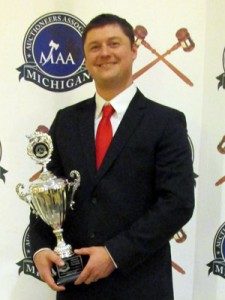 Wade Leist of Boyne City, Michigan won the title, Michigan Auctioneer Champion at the Michigan Auctioneer Championship. The Championship was held on January 28 at the Michigan Auctioneers Association's Annual Conference in Kalamazoo, Michigan. 15 Contestants competed for the coveted title. The 5 Finalists were John Beechy (Napanee, Ind.), Grant Cole (Beulah, Mich.), Romayne Graber (Charlotte, Mich.), Wade Leist (Boyne City, Mich.) and Kelly Merryman (Fremont, Mich.). For winning the title, Wade received a championship ring, trophy, and entry into the International Auctioneer Championship in July in Addison, Texas.Also taking home honors were John Beechy and Grant Cole. Beechy was 1st Runner up and Graber was 2nd Runner up.
Wade Leist is a 35 year old, 2nd generation auctioneer. He started in the auction profession as a ticket runner like many other 2nd generation auctioneers. He then helped with clerking, cashiering, set-up and ringman before becoming a bid caller. In about 2002, he called his first auction at the Lake Odessa Stockyards calling bids for Leon Casey and Russ Easey. Russ Easey was the auctioneer on that day. Unannounced, Russ set the mic down and walked off saying "your turn boy!"
After his initiation in Lake Odessa, he began assisting his dad with bid calling for his auction company, Frank Leist Auction Service. In 2004, Wade and his brother, Ed, went to World Wide College of Auctioneering in Mason City, IA. They graduated and returned to Michigan with a full head of steam. Their dad made them working partners in the company along with cousin Jerry Schmoldt, and it is now called Leist Auctioneers. They specialize in farm, estate, real estate and also benefit auctions. Wade particularly enjoys conducting benefit auctions and his highly sought after as a benefit auctioneer.
Shortly after returning from auction school, he began selling for his dad at Northern Michigan Livestock. Selling livestock became a true passion and has since gone on to compete in livestock auctioneering competitions. In October 2014 he competed in the Eastern Regional Qualifier of the Livestock Marketing Association's World Livestock Auctioneer Championship. He finished in the top 10 of that competition and qualified to compete in Waco TX June 2015 in the World Livestock Auctioneer Championship. On January 31, 2015 he competed in the Greater Midwest Auctioneer Championship and also finished in the top 10.
Wade joined the Michigan Auctioneers Association in 2004 and attended his first convention in 2005. He enjoys the friendships, programs, education and networking that the association offers its members. In 2006, he entered his first Michigan Auctioneer Championship. In 2012, 2013 and 2014 he finished as MAC Runner-up to champions Henry Detwiler, Jimmy Lambert and Laura Mantle. In 2012, he was elected to serve a 3 year term as Board of Director. At the 2015 conference he was elected as Vice President.
In 2013, he married his beautiful wife Sarah. They have 3 daughters, Morgan 9 yo, Katie 5 yo and Aubrey 8 months old. They make their home in Boyne City MI where they also run a horse leasing operation, North Bay Horse Co. They lease over 100 horses to summer riding camps throughout the state of Michigan during the summer months. Their family enjoys camping, riding the Harley and participating in sporting events.