Laura Mantle, Michigan Auctioneer Champion 2014
Laura Mantle
Michigan Auctioneer Champion 2014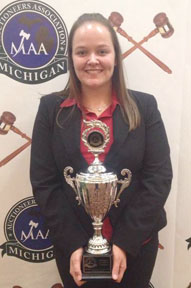 Laura Mantle of Gahanna, Ohio won the title, Michigan Auctioneer Champion, at the Michigan Auctioneer Championship. The Championship was held on January 29 at the Michigan Auctioneers Association's Annual Conference in Lansing, Michigan. 10 Contestants competed for the coveted title. The 6 Finalists were Romayne Graber (Charlotte, Mich.), Darin Hower (Lake City, Mich.), Wade Leist (Boyne City, Mich.), Kenny Lindsay (Livonia, Mich) and Laura Mantle (Gahanna, Ohio) and Scott Vander Kolk Jr (Dorr, Mich). For winning the title, Laura received a championship ring, trophy, and entry into the International Auctioneer Championship in July.Also taking home honors were Wade Leist and Romayne Graber. Leist was 1st runner up and Graber was 2nd runner up.
Laura became an auctioneer at age 19, after 7 years of working auction setup and as a clerk and cashier around the state of Ohio. She graduated from The Ohio Auction School and immediately began working 2-3 auctions per week. She manages the staffing for Mike Brandly, Auctioneer's weekly auction, and in 2009 she began supervising the support staff for The Super Auction held in Ann Arbor, Michigan, hosting 8 auctioneers from throughout the country selling in one structured, multi-ring auction. Laura is proficient with working the ring, all types of auctioneer sound systems, auction software including AuctionFlex, and settling auctions. Laura earned a B.A. in Business Administration from Otterbein College in Westerville, Ohio. She currently serves on the Board of Directors for The Ohio Auctioneers Association. Laura is also a real estate auctioneer with Keller Williams Greater Columbus. She is a member of NAA, MAA, OAA and IAA and is currently working toward her CAI designation.
She will be representing Michigan as the Michigan Auctioneer Champion in the 2014 International Auctioneer Championship in July. The event will be held in Louisville, Kentucky.