Jason Miller wins 2014 NAA International Auctioneer Championship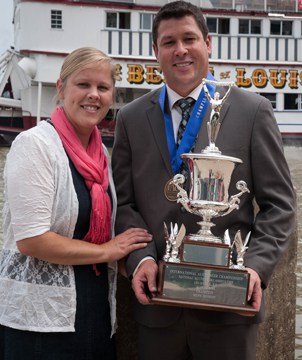 Emerging from a highly competitive field of 74 contestants, Jason Miller, of Quaker City, Ohio, was crowned winner of the men's National Auctioneers Association 27th International Auctioneer Championship, which took place on July 12, 2014 at the Galt House Hotel in Louisville, Kentucky. Miller received a $5,000 cash award, trophy and championship ring for his winning efforts through the preliminary bid-calling round, an interview round and a final round of bid-calling that included the top 15 men and seven women. He now claims the right to be known as one of the best auctioneers in the world.
"Dreams do come true," said Miller, who competed in his eighth IAC. "I've chased this for so long, but it's not even about the trophy. It's about the association, the friendships."
"These guys who I competed with today, not against, are my dear friends for life, and I love them all." Miller recently helped establish the new Cambridge, Ohio office for Kaufman Realty & Auctions. Conveniently located in the heart of Cambridge's beautiful historic district, the location offers full-service real estate sales and consultation, while also helping community landowners navigate their interactions with the oil and gas industries in Southeast Ohio. Miller and team will educate clients on the value of their land and minerals, equipping them for sound and informed decisions concerning their rights. Jason sells Real Estate, purebred cattle, and automobiles in numerous states, and is a Real Estate marketing specialist with an emphasis on Recreational and Agricultural Real Estate.
Miller's win gives the state of Ohio three IAC championships in the past four years and six total IAC men's and women's champions. Ohio is tied with Texas for the most IAC Champions out of any one state. Michigan Members who competed in the Men's Division of the IAC were John Beechy (Nappanee, Ind.), Jonathan Kraft (Valpraraiso, Ind.), Jason Miller (Quaker City, Ohio), Peter Gehres (Hilliard, Ohio), Kenny Lindsay (Livonia, Mich.) and Grant Cole (Beulah, Mich.).
The IAC was conducted as part of the NAA's 65th Annual International Auctioneers Conference and Show, which took place in Louisville July 8-12.