Clair Wendell Buehrer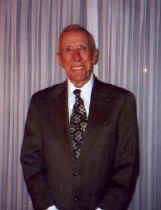 Clair Wendell Buehrer, age 73 of Cement City passed away on Monday, July 10, 2000 at Foote Hospital in Jackson.
Born October 8, 1926 in Adrian to Bennett and Myrtle (Townsend) Buehrer. He married Neoma M. Valkenburg on December 21, 1946 in Jackson, and she survives.
Surviving besides his wife and one son: Wayne Buehrer and his wife Krystal of San Antonio, Texas, one daughter; Wendy Hawes and her husband Calvin of Addison, grandsons Marks Buehrer (Sandi) and Dustin Buehrer; granddaughters Marcie Broad (Michael), Keya Buehrer, Kristin Suminski (Pete), Marika Hawes-Ruhrup (Josh), and Kara Hawes; and three great-granddaughters.
Mr. Buehrer served in the United States Navy during World War II. After graduating from the Missouri Auction School he spend 42 years as an auctioneer, and was a member and past president of the Michigan State Auctioneers Association. Mr. Buehrer also showed Shetland Ponies, serving in various positions in the Michigan Pony Club. He received Hall of Fame honors in the Michigan Pony Club and the Area II Pony Club.
Memorial contributions to the Addison Ambulance Service or the American Cancer Society.