ALL IN THE FAMILY- JORDAN MIEDEMA BECOMES THE THIRD MIEDEMA TO WIN MICHIGAN AUCTIONEER CHAMPIONSHIP.
ELECTED AS PRESIDENT OF RENOWNED ASSOCIATION HOURS LATER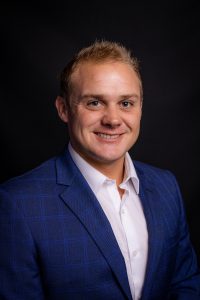 Mount Pleasant, Michigan – Jordan Miedema of Byron Center, Michigan, won the title of Michigan Auctioneer Champion at the Michigan Auctioneer Championship. The Championship took place on January 28 at the Michigan Auctioneers Association Annual Conference held at the Comfort Inn & Suites in Mount Pleasant, Michigan. The 5 Finalists were Ridge Bollheimer (Clarklake, Mich.), Grant Cole (Beulah, Mich.), Jeremy Miedema (Byron Center, Mich.), Jordan Miedema (Byron Center, Mich.), and Darby Walton (Upper Sandusky, Ohio). For winning the title, Miedema received a championship ring, trophy, and he will compete in the International Auctioneer Championship in July in San Diego, California.
Miedema was born into one of the most prominent auction families in the United States, Miedema Companies, owned by his father, Sid Miedema, and his uncle, Scott Miedema. Over the past two decades, he has worked in every conceivable role in the auction business. Jordan started with delivering sales sheets to working the warehouse operating forklifts. He did the gradual climb to working in advertising and marketing, and in 2018, he received his broker's license and is now President of LASTBIDrealestate, an online real estate auction company.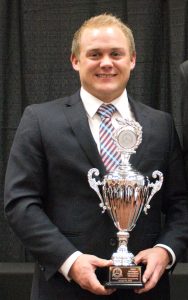 Miedema is a graduate of the Reppert School of Auctioneering and obtaining his Bachelor's Degree in Business Administration from Davenport University.   He also attended Indiana University and completed the Certified Auctioneers Institute (CAI) program, the highest designation in the auction industry.
In 2018, his peers elected him onto the Michigan Auctioneers Association Board of Directors. He proved to be such an asset to the association that he was then elected as Vice President of the organization.   On January 27, 2022, he was sworn in as the President of the Michigan Auctioneers Association – a position that his father and uncle once held several years prior.
Jordan's father, Sid Miedema, Jr. was elected as President of the MAA in 1992 and won the Michigan Auctioneer Championship in 1995. Jordan's uncle, Scott Miedema, served as President of the MAA in 2000 and won the Michigan Auctioneer Championship in 2005.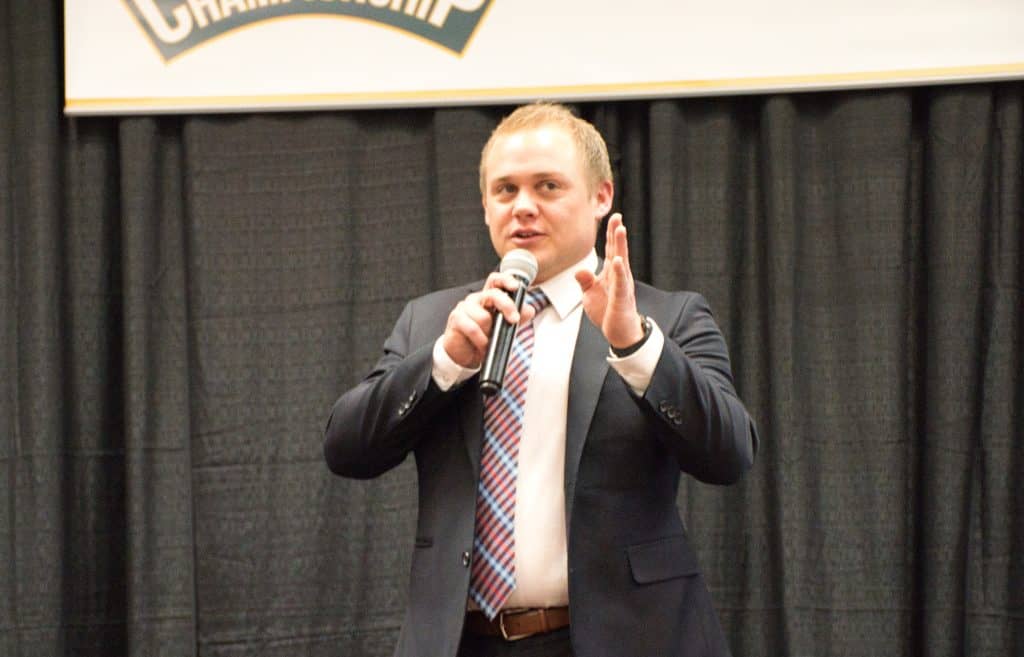 ***
Established in 1951, the Michigan Auctioneers Association is dedicated to the enhancement of Michigan's Auction Industry through education, promotion, advocacy and networking. The MAA is the professional association for auctioneers in Michigan, continuing to be one of the leaders in the industry, and is proving to continue in that direction in the future.  The Michigan Auctioneers Association is the largest representation of auctioneers in Michigan, providing a forum for networking, sharing ideas and experiences.  For more information about the Michigan Auctioneers Association and the auction industry in Michigan, log onto www.FindMichiganAuctions.com.