Ray Tosch Obituary
Ray Harry Tosch
February 18, 1929 – December 15, 2014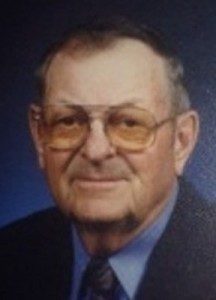 Ray Harry Tosch, 85, of Capac, passed away Monday, December 15, 2014, at his home with family by his side.
He was born in Capac, February 18, 1929, the son of the late Harry and Julia (Mapes) Tosch.
His marriage to Barbara Swayze was March 25, 1949, at the United Methodist Church, Brown City.
Ray was a lifetime Capac area resident and attended Zion United Methodist Church, Capac. He worked on his parents farm, was a real estate broker and sold farm and industrial equipment. He graduated from Reisch Auction College, Mason City, Iowa in 1955, and then established, Ray Tosch and Associates, Capac. Ray was a longtime Capac State Bank board member and lifetime member of the Michigan Auctioneers Association and enjoyed 58 years as an auctioneer for his company. In his free time, Ray enjoyed boating and water-skiing.
Surviving in addition to Barbara, his wife of 65 years, are a son, Ron (Kim) Tosch of Capac and a daughter, Connie Tosch of Capac; four grandchildren, Kelsey and Shane Tosch and Robert and Dylan Marshall; brother and sister-in-law, Rev. Clare and June Tosch of Saginaw and one sister-and brother-in-law, Alice and Greg Cutler of Yale; Sue and Tom Thielman of Capac and Becky and Craig Marshall of Capac, as well as many nieces, nephews and friends.
He is preceded in death by a son, Bob Tosch (2007).  Memorials are suggested to "Wishes of the Family".