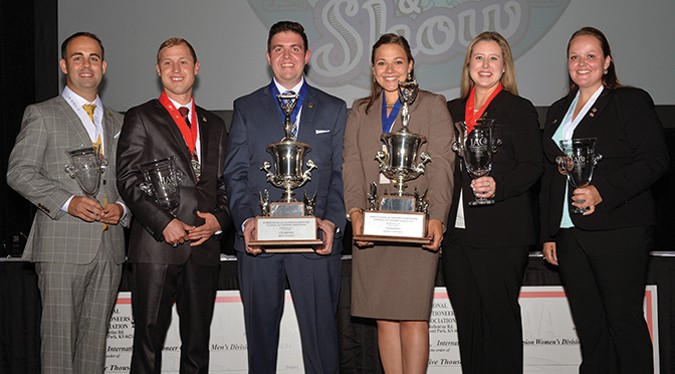 JACKSONVILLE, Fla. (July 20, 2018) – Emerging from an overall field of 77 competitors, Barrett Bray, of Edmond, Oklahoma, and Emily Wears Kroul, of Solon, Iowa, were crowned as winners of the Men's and Women's National Auctioneers Association 31st International Auctioneer Championship, which took place Friday at the Hyatt Regency Jacksonville Riverfront.
Bray, AMM, BAS, and Wears Kroul, CAI, ATS, BAS, received a $5,000 cash award, trophy and championship ring for their winning efforts through the preliminary bid-calling round, an interview round consisting of three questions, and a final round of bid-calling that included the top 15 men and seven women. In the two divisions, 62 men and 15 women competed for the right to be known as one of the best auction professionals in the world.
For Bray, the championship comes in his very first NAA IAC competition. The lack of event experience didn't slow him down, however, as he handled each on-stage moment with veteran composure from start to finish. A first-generation NAA auction professional, Bray launched his own company, Bray Auctions, in Oklahoma City, Oklahoma. He is also the current Oklahoma state auction champion.
Behind Bray, Eli Troyer, of Beach City, Ohio, finished as runner-up, and Jay Cash, of Murfreesboro, Tennessee, rounded out the top three as second runner-up among a stout group of 15 men's finalists.
A former champion in Iowa (2009), Colorado (2012), and Wyoming (2014), Wears is a second-generation NAA auction professional. She works full time in the family business, Wears Auctioneering, with her dad, Brent, and handles all online auctions as well as onsite auctions on weekends. Emily is an auctioneer on A&E's reality show "Storage Wars".
Morgan Hopson, CAI, of Oklahoma City, Oklahoma, took runner-up, a strong follow-up to a second runner-up showing in the 2017 NAA IAC. Laura Mantle, CAI, CAS, was second runner-up to complete the top three and put the wraps on a fiercely competitive women's field including seven finalists.
Earlier in the evening, Cotton Booker, of Colfax, Washington, was crowned winner of the 2018 International Junior Auctioneer Championship, which features competitors ages 12-18 and helps cultivate and promote the next generation of auction professional talent. Booker's immediate family is affiliated with Booker Auction Company in Eltopia, Washington. His father, C.D. "Butch" Booker, is the owner of KINCAID Real Estate. In Colfax. Butch won the International Auctioneer Championship Men's Division title in 2008, which makes them the first father/son duo to collectively hold IAC and IJAC titles. (IAC began in 1988, IJAC began in 2007.)
Also during the IAC competition, which was streamed live throughout the day on Facebook Live (with a reach of just under 25,000 who saw it or stopped by the feed) and YouTube, the Chuck Cumberlin Sportsmanship, awarded to the IAC competitor who shows the best sportsmanship, was given to Jerick Miller, of Cambridge, Ohio. The Bob Steffes Rising Star Award was given to Katie Imholte Gabriel, BAS, of St. Louis Park, Minnesota.
Both the 2018 NAA IAC and 2018 NAA IJAC were conducted as part of the NAA's 69th Annual International Auctioneers Conference and Show, which took place in Jacksonville in July. IAC contestants must be 18 years of age or older, a current NAA member, and registered for Conference and Show.