Wade Leist, MAA President 2016
WADE LEIST ELECTED PRESIDENT OF MICHIGAN AUCTIONEERS ASSOCIATION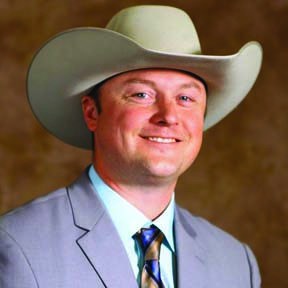 GRAND RAPIDS – Wade Leist of Boyne City, Michigan was elected President of the Michigan Auctioneers Association at their annual conference on February 18, 2016. Wade had previously served as the Vice President of the association and has sat on the Board of Directors since 2012.
Wade is a 36 year old, 2nd generation auctioneer following in the footsteps of his father, Frank Leist. After showing interest in the profession, Frank sent his eldest sons Wade and Ed to the World Wide College of Auctioneering in Mason City, IA in February of 2004. The brothers returned home after 8 days of intensive training and went to work with their father and cousin Jerry Schmoldt at Leist Auctioneers. Together they operate a multi-faceted auction company that specializes in real estate, farm, livestock, estate, and business liquidation.
Wade has also realized an ever increasing call to perform benefit and fundraising auctions throughout the state. In 2014 Wade formed a separate benefit auctioneer and consultation company which specializes in raising funds and awareness for nonprofit organizations. This service continues to grow each and every year as nonprofits look to increase their bottom line through hiring a professional auctioneer.
Wade also sells livestock every Wednesday for the family owned facility in Gaylord MI known as Northern Michigan Livestock. Northern Michigan Livestock is one of the largest feeder cattle auctions in Michigan and uses the live auction method of competitive bidding to increase value for their customers. Wade has excelled at auctioning livestock and has previously qualified for the World Livestock Auctioneer Championship which is featured on the RFD Channel.
Wade credits much of his success in the auction industry to his active membership in the Michigan Auctioneers Association. Wade has been a MAA member since 2004 and attended his first conference in 2005. Wade has gained education, networking and lifelong friendships from his time with the MAA.
In 2015 Wade was named Michigan Auctioneer Champion during the annual conference held in Kalamazoo MI. Wade had previously been named runner-up for this honor the previous 3 years. Wade has also competed successfully in the International Auctioneers Championship as well as being named the 2015 Midwest Auctioneers Champion.
Wade and his lovely wife Sarah have 4 children, Morgan 10yo, Katie 6yo, Aubrey 2yo and Madeline 2 mo. Wade and Sarah also operate a horse leasing operation which leases over 100 horses to summer camps throughout Michigan. When not at an auction or attending a family sporting event, the family enjoys camping, boating, motorcycle rides and horseback riding.
Any questions or concerns regarding the association can be directed to Wade Leist at 231-330-1042 or wadeleist@gmail.com.