Dan Burns, MAA Hall of Fame 2016
BURNS INDUCTED INTO THE MICHIGAN AUCTIONEERS HALL OF FAME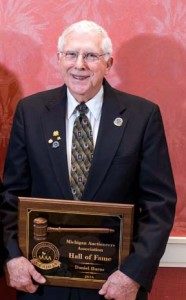 Grand Rapids, MI – Michigan Auctioneer, Dan Burns, who was a fixture in the auction industry received the highest possible honor any auctioneer can receive with his induction into the Michigan Auctioneers Hall of Fame on February 18 at the Michigan Auctioneers Association Annual Conference. Dan started in the auction business in 1981 after graduating from Reppert School of Auctioneering. Dan kept growing his business and continued for over 20 years, providing auction services for estates, farm equipment, business liquidations, and more. As his business grew, he became licensed in real estate and added that to his business as well.
Dan conducted auctions in over 8 different counties. He sold a variety of items including turtle eye drops from a pet shop, a giant elephant from a roof top, hundreds of tables and chairs for Grand Valley State University, a large blueberry farm with all the equipment, an auto body repair shop, animal cages from a circus, furnishings of the large three-story Herpolsheimers Department Store in downtown Grand Rapids, a one room schoolhouse that was purchased to be a museum, dozens of estates, farm machinery, cattle and horses, a lumber yard, restaurant equipment and furnishings.
For years Dan gave back to the community by donating his auctioning skills including the gala Cystic Fibrosis Evening with the Stars at the Amway Grand Plaza for over 5 years, Cornerstone University's choir tour fundraisers, Ducks Unlimited auctions, Kendal University Alumni Association auctions, Rockford Chamber of Commerce auctions, Newaygo Logging Days auctions, 4H Livestock auctions at county fairs, annual auctions of Boy Scout homemade cakes, dozens of church fund raisers, and dozens of fund raisers for those with health issues or tragedies.
He was a member of the Michigan Auctioneers Association and served on their Legislative Committee and the Board of Directors. On the tenth anniversary of his graduation from Reppert he was back at Repperts as President of Michigan Auctioneers Association asking those in training to join MAA. Dan is also a member of the National Auctioneers Association and attended many of their conventions across the country.
Dan also served in the US Army and Army reserves; as well as working for 30 years for the Grand Rapids Home for Veterans as the Executive Housekeeper overseeing 50 employees. Dan & Nancy live in a house they built on some of the land of the Burns family home where Dan was born in Rockford, Michigan. Dan has lived all but 6 years of his life on this land. Dan and Nancy have a total of 6 children, 14 grandchildren and 25 great grandchildren.