Peter Gehres Wins Super Summer Slam Down Bid Calling Championship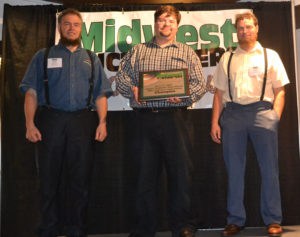 Peter Gehres, of Hilliard, Ohio won the 2014 Super Summer Slam Down Bid Calling Championship at the Midwest Auctioneers Roundup. The Slam Down was held on June 11 at the Midwest Auctioneers Roundup in Ann Arbor, Michigan. Anyone could compete as long as they were a member of their state auctioneers association. The Competition was unique as it was only about bid calling. Contestants were allowed two minutes to sell what they brought and every contestant was required to wear a hat. 22 contestants from 5 states competed for the title and prizes. The top 5 contestants were rewarded; 5th, Junior Staggs from Puryear, Tennessee; 4th, Art Smith from Cedar Springs, Michigan, 3rd, Carl Gilbert from Martinsville, Indiana, 2nd, Wade Leist from Boyne City, Michigan and the Super Summer Slam Down Champion, Peter Gehres from Hilliard, Ohio.
Peter D. Gehres is an auctioneer and Realtor who sells real estate and personal property at auction for more money in less time for individuals, companies, organizations and institutions. Gehres also works with charities, nonprofits and other organizations to raise money through live auction events. Gehres is a Regional Sales Manager for Ohio Real Estate Auctions, LLC. Gehres is the owner of Belhorn Auctions, LLC, an auction firm specializing in American Art Pottery. He is also an auctioneer and ringman at Mike Brandly, Auctioneer and the Akron Auto Auction.
Gehres is a Trustee of the National Auctioneers Association's Educational Institute and teaches at The Ohio Auction School. He has been an instructor at the Certified Auctioneers Institute, Reppert School of Auctioneering and has spoken at various state auctioneer associations and presented at the National Auctioneers Association Conference & Show. Gehres has appeared on both radio and TV promoting auctions and the auction method of marketing.
Gehres is a graduate of The Ohio State University with a Bachelors Degree in Agriculture and studies in Agricultural Engineering and Economics. Gehres is also a graduate of The Ohio Auction School and Hondros College (Real Estate). Gehres is the 2012 Michigan Ringman Champion, 2011 Indiana Champion Auctioneer, the 2010 Michigan Auctioneer Champion and the 2006 Ohio Junior Bid Calling Champion. He has been a finalist in the International Auctioneers Championship and regularly competes in the World Automotive Auctioneer Championship. Gehres currently serves as the Vice President of the Ohio Auctioneers Association and has served on the Board of Directors of the Michigan Auctioneers Association. Gehres has won numerous auction marketing awards in both Ohio and Michigan. Gehres has earned the Certified Auctioneers Institute (CAI) designation which is the highest educational recognition in the auction industry. In addition he earned the Certified Estate Specialist (CES) designation and completed ProTrack, an advanced professional speaker education and training course, offered by the National Speakers Association's Ohio Chapter.
Gehres is a member of: National Auctioneers Association, Ohio Auctioneers Association, Indiana Auctioneers Association, Michigan Auctioneers Association, Pennsylvania Auctioneers Association, Fellowship of Christian Auctioneers International, National Speakers Association – Ohio Chapter, National Association of Realtors, Ohio Association of Realtors, Columbus Board of Realtors, American Art Pottery Association, Ohio State Alumni Association – Life Member, FFA Alumni Association – Life Member.
Gehres was born in rural Northwest Ohio in Van Wert County and grew up on the family farm which has been in continuous operation since 1875 and which Gehres still manages. He attends Cypress Wesleyan Church and is married to Paige Gehres and lives in Hilliard, Ohio a suburb of Columbus, Ohio. They have twin boys, Abraham and Oliver and an infant daughter Evelyn. The Super Summer Slam Down Bid Calling Championships is a popular part of the Midwest Auctioneers Roundup. The entire event is hosted by the Michigan Auctioneers Association. Growing every year, the event features some of the top bid callers in the Midwest. Since the event is open to all state auctioneer association members, including past champions, Gehres will have the opportunity to defend his title again at the 2015 Midwest Auctioneers Roundup. For photos and video, go to Facebook.com/MichiganAuctioneers or YouTube.com/MichiganAuctioneers or FindMichiganAuctions.com.
The Michigan Auctioneers Association is one of the leaders in the industry, and is proving to continue in that direction in the future. The Michigan Auctioneers Association is the largest representation of auctioneers in Michigan. The MAA represents the interests of the Auctioneers, providing a forum for networking, sharing ideas and experiences. For more information about the Michigan Auctioneers Association and the auction industry in Michigan, log onto www.FindMichiganAuctions.com.