RIVERDALE, MICHIGAN AUCTIONEER, ASHLEY PETERS WINS PRESTIGIOUS GOTOAUCTION.COM MIDWEST AUCTIONEER CHAMPIONSHIP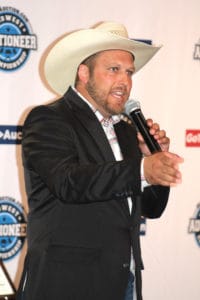 KALAMAZOO, MICHIGAN – Professional auctioneer, Ashley Peters from Riverdale, Michigan which is just South of Mt. Pleasant, Michigan took top honors at the GoToAuction.com Midwest Auctioneer Championship – one of the most popular auctioneer competitions in the United States of America.
The GoToAuction.com Midwest Auctioneer Championship saw a field of 15 top quality auctioneers from around the Midwest competing for the title of the Grand Champion of the coveted auctioneer championship. The championship was held in conjunction with the Midwest Auctioneers Roundup hosted by the Michigan Auctioneers Association.
The highly esteemed auctioneer championship saw five finalists including: John Beechy of Nappanee, Indiana (5th place), Clayton Neal of Tiffin, Ohio (4th place), Grant Cole of Beulah, Michigan (3rd place), Sam Baer of Galion, Ohio (2nd place) and of course, the Champion Ashley Peters. All finalists received a plaque commemorating their achievement and a cash prize.
The Champion, Ashley Peters, who owns Statewide Auction Service with his brother, Avery Peters has become a well-known and respected professional auctioneer in the state of Michigan. Over the past several years, Peters has become highly sought after by other auction companies that employ him to work their live auction events.
Upon receiving the GoToAuction.com Midwest Auctioneer Championship purse of $2,500 and the championship award, Peters was noticeably surprised when he was declared the champion. Peters said afterward, "I was pumped that I made the finals. When I realized I was in the Top 2, I thought to myself, "No Way!" and when announced that I won, my mouth hit the floor, jaw hanging open. It was a pretty surreal moment."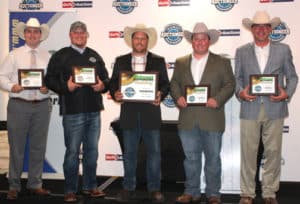 One of the judges commented, "This was a really difficult championship to judge based on the amount of talent. We were looking at accomplished auctioneers that compete on the national level. However, it was many of the lesser known names that do not compete in similar contests that kept this competition especially tight. In the end, Peters amassed the most points."
The GoToAuction.com Midwest Auctioneer Championship was broadcasted live to a worldwide audience. "This is a unique competition in the sense there isn't much in the way of rules – other than they must wear a hat, any hat and sell what they are selling within a two-minute time frame. Contestants are scored exclusively on their real-world auction chant – and man, do they put on an authentic show!" Said GoToAuction.com co-founder and Marketing Director, Kenny Lindsay, CAI.
To watch video of the competition, visit www.youtube.com/michiganauctioneers