Sara Rose Bytnar Wins
International Auctioneer Championship!
Third Generation Auctioneer Wins Women's Title
One Year after Finishing Second to Her Mother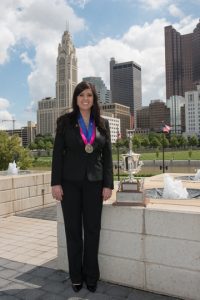 (Naples, FL – July 26, 2017) – Sara Rose Bytnar of Naples, Florida was recently crowned winner of the Women's National Auctioneers Association (NAA) 30th Annual International Auctioneer Championship in Columbus, Ohio. The 31 year old Rose Bytnar, a third generation auctioneer, grew up with four female auctioneers in her family to guide and mentor her, to which she credits much of her success. She finished second last year to her mother, Beth Rose, by one-tenth of one point.
Twenty women competed for the right to be known as one of the best auction professionals in the world. Rose Bytnar, Certified Auctioneers Institute (CAI), Accredited Auctioneer Real Estate (AARE), Auction Marketing Management (AMM), received a $5,000 cash award, trophy and championship ring. The contest included a preliminary bid-calling round, an interview round, and a final round of bid-calling that included seven women.
"I am honored to have won the auctioneer championship and be recognized by the world's largest association dedicated to auction professionals," said Bytnar. "My involvement with the NAA has provided an opportunity to network with the best auction professionals in the business and the educational opportunities to keep me at the top of my field."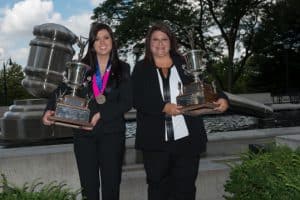 As part of her responsibilities as auction champion, Rose Bytnar will travel to St. Jude Children's Research Hospital in Memphis, TN later this year to conduct the annual NAA Toy Auction for patients and their siblings. All of the children leave as winners after bidding successfully on a toy to take home. The NAA formed its partnership with St. Jude in 1995 and has raised more than $5 million to support St. Jude.
Rose Bytnar focuses on luxury homes, commercial property and golf course real estate auctions in Ohio, Michigan and Florida for her family's business, Beth Rose Real Estate and Auctions. She is also an auctioneer with Scott Robertson Auctioneers, one of the premier professional benefit auction companies in the United States.
Sara is joined in her year as champion with the Men's Division Champion, Dustin Rogers, of Mt. Airy NC.