MAA Mother & Daughter Auctioneers Finish 1st & 2nd in International Auctioneer Championship – First Time in History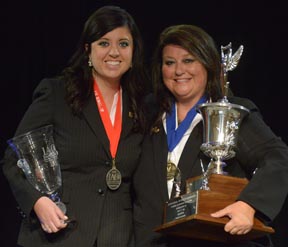 Beth Rose, CAI, AARE, (President of Beth Rose Real Estate & Auctions, Maumee, Ohio) was named winner of the National Auctioneers Association's, International Auctioneers Championship, Women's Division. Beth topped a field of 94 competitors to take the women's division and her daughter Sara Rose-Bytnar, placed right behind her as 1st Runner Up. The International Auctioneer Championship was conducted as part of the National Auctioneers Association's 67th annual International Auctioneers Conference & Show, which occurred in Grand Rapids, Michigan during July 19-23.
Ms. Rose received a $5,000 cash award, trophy and championship ring for her winning efforts. The competition featured a preliminary bid-calling round, an interview session consisting of three questions, and a final round of bid-calling that included the top 15 men and 7 women. In the two divisions, 74 men and 20 women competed for the right to be known as THE BEST auction professional in the world.
In addition to this prestigious title, Ms. Rose will serve as the National Auctioneers Association's ambassador for the next 12 months. She will also be an ambassador for St. Jude's Children's Research Hospital and travel to Memphis, Tennessee in December to conduct a fund-raising auction for kids receiving treatment at St. Jude's.
During the NAA Conference and Show, Beth Rose Real Estate & Auctions also received top recognition from the 2016 NAA/USA TODAY Marketing Competition Award as "Auction Marketing Campaign of the Year" for The Ridgeland Estate Luxury Auction.
Beth's path to a successful auction career was paved by her father, David Rose. David started as a traditional real estate broker when Beth was born and had one of the largest Century 21 franchises in the country in the 1980's. David then sold the successful Century 21 franchise to focus on selling real estate at auction. David mentored under some of the top auctioneers in the country to develop Rose Auction and Realty. David put his company on the map by educating the general public in Toledo, Ohio to utilize auctions as a first choice in selling real estate and assets. Rose Auction and Realty credits the likes of Marty Higgenbotham, Hugh Miller, Brent Semple, Walt Driggers, Merle Booker and the late Keith Bradley for leaving a lasting legacy and helping develop this now nationally recognized auction firm.
Unfortunately, David's life was cut short at the age of 55 when he was diagnosed with non Hodgkin's Lymphoma. David had been preparing to enter his third and final year of CAI when he received the news. He was advised to get his affairs in order and was therefore unable to attend his final year of CAI. David's CAI classmates had a phone brought into the classroom so that David was able to speak with the entire class and say his goodbyes. David received his CAI Designation as an Honorary Designee through the efforts of his CAI 1998 classmates. The relationships he made during his time at CAI helped carry on his legacy. Each year a newly designated CAI graduate is presented with "The Rose Award" in honor of David.
David passed within six weeks of his diagnosis. His abrupt passing happened when Beth was just 33 years old. "We never planned for this to happen at such a young age," says Beth. "Because of the NAA, we were able to sustain our company's growth and build on his legacy. I remember my dad always telling us that knowledge is power and it doesn't matter how long you are in the business, we need to evolve constantly and to invest in yourself and always attend educational classes. And the NAA has provided us with all the vital tools, training, and mentorship we've needed to thrive as women in the auction industry."
David's legacy lives on through Beth and her three sisters who are also in the auction business, Pamela, Dawn and Karen Rose. David set his daughters up to be the ultimate sales women by making them all competitors. Beth always remembered her father saying, "Treat every appointment as if your sister is sitting in the driveway and you will get every deal." This has made all four girls leaders in their marketplace and they still live by this philosophy. They compete to be at the top of their game. Though competitors in business, Beth is very close to all of her sisters, stating, "We may compete against each other in business, but we are best friends. It really works for us!"
Beth's daughter, Sara Rose-Bytnar is also an accomplished auction professional. Sara is the managing partner of Beth Rose Real Estate and Auctions and lives in Naples, Florida. Beth and Sara have a special bond since Beth raised Sara as a single Mother. At a very young age, Sara knew the real estate and auction business from traveling with Beth on appointments and auctions. "Sara has made her voice and the business her own. She is an amazing businesswoman and I couldn't be more proud to share the stage with her in the IAC Competition. It was the most rewarding experience any parent could ever imagine." Sara was the 1st Runner Up in the IAC Competition and only lost by 0.1 point. "We are still in awe of how close we both were. Since we started competing together five years ago, our goal was for both of us to place first second, and this year we did it!"
The Michigan Auctioneers Association is fortunate to have both Beth and Sara as active and engaged MAA members. Beth and Sara are at nearly every MAA event and have shared their experience and knowledge by hosting numerous seminars for MAA members in the past. The MAA congratulates each for their outstanding performances during the 2016 NAA C&S and looks forward to having Beth Rose represent our industry for the upcoming year.