Winter eGavel 2015 Pg3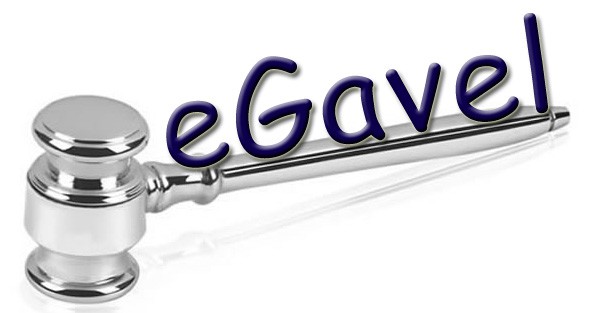 Welcome to the MAA's Winter 2015 eGavel!
eGavel Home, Page 1, 2, 3, 4, 5, 6, 7, 8
Download entire issue in PDF HERE.
Champion: A word synonymous with greatness and distinguishable from others in the same field
by Wade Leist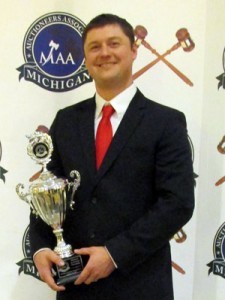 For the Michigan Auctioneers Association membership, the word "champion" is attached to one member each year. MAA members can be classified by several different titles; First Timer, Successful Veteran, Board Member, Past President, and for a select few, Hall of Fame. But, no title is more recognizable nor more admired than "Champion". Being the Michigan Auctioneer Champion is the single greatest career achievement of many MAA members.
Becoming a champion requires focus, determination, practice, and luck. Winning the championship brings joy, recognition, admiration, and responsibility. Like many things in life worth having though, its more about the journey than the destination.
For many, the path to MAC has left lasting friendships, experiences and memories. I imagine each path and experience is different. I doubt any former Champion has forgot the moment they were crowned. Ask any Champion about the moment their name was announced and you are likely to find that the memory is crisp and recalled with much pride.
My path to becoming champion began in 2006. Each year was the same; rehearse my introduction, study my items, practice my chant and for God's sake don't forget to say my name! Each year until 2012 ended the same way too. I stood in the back of the room and wondered what I did wrong to not make the finals. I wished I could get one more chance. I asked the same question every year, "was it me or did the judges get it wrong?" Each year I'd study the scores, compare to the video and realize the judges were right. I came to realize the judges are ALWAYS right.
I leaned upon friends and mentors to help me get better. I sought the opinion and direction from those who were honest and unforgiving. Doug Heuker reminded me to smile. Lee Smittendorf told me to straighten my tie. Scott Miedema offered sincere encouragement and Scott VanderKolk told me not to suck. I continued on. I was named Runner Up for 3 years. Each of those years I thought I was ready to win. I wasn't.
2015 would finally be my time. It changed my career. The memories from that moment will last my lifetime. I'll never forget the announcement from previous Champion Laura Mantle. I remember fondly the congratulatory hug from my friend John Beechy. Lastly, I'll always cherish the moment I sold my first item as MAC. Doug Heuker bought that item and presented it back to me with a smile and a handshake. Doug said "a Champ should always get to keep their first item they sell as the Champion." That item sits upon my desk and invites visitors to ask where it came from. I proudly explain its significance.
As Champion or competitor, you will create your own memories and meaning in this competition. I take pride in knowing that winning the MAC is one of the highest honors achieved in the auction industry. As such, I take no exception or regret in the years I did not win. Without lessons learned in defeat, I would never have been able to win.
I challenge all eligible members to involve themselves in the competition and become better because of it. Step outside your comfort zone. Allow for a judges criticism or compliment. Strive to be an ambassador for our industry and our association. You and our membership will be better because of it.
Good luck and see you in Grand Rapids,
Wade Leist
2015 Michigan Auctioneer Champion