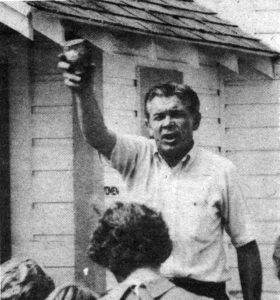 William Oscar Coats, 91, of Coldwater, formerly Union City, passed away peacefully on October 8, 2019 at Masonville Place in Coldwater.
A memorial service celebrating Bill's life will be held at 11:00 AM on Monday, October 14, 2019 at Lighthouse Funeral & Cremation in Union City with Pastor Marty Burdick officiating. Burial will be at Riverside Cemetery in Union City. Visitation will be held from 3:00-6:00 PM on Sunday, October 13, 2019, also at Lighthouse Funeral & Cremation in Union City.
Bill was born September 4, 1928 to Joseph Donovan and Bonita Fordyce (Radley) Coats in Bronson. After graduating from Bronson High School in 1946, he went on to serve in the United States Navy on board the USS Vesole and USS Purvis.
Following an honorable discharge from the Navy, Bill returned to Branch County and married Betty Lou (Hedrick) Coats (1930-1994) of Union City in 1949. Betty Lou was active in the Union City community including serving on the Union City Board of Education.
In 1952 Bill graduated from the Reppert School of Auctioneering in Decatur, IN. In 1954 he earned his realtors license working with Branch County realtor Claire Hill. By the mid 1950's William O. Coats Agency was established in Union City specializing in auctioneering, real estate, and appraisals throughout the surrounding area.
Bill spent 20 years as the Village Assessor in Union City and served as the Union Township Supervisor. He was also instrumental in the founding of the Union City Development Corporation. Bill was active in Rotary, the Union Lake Community Association, the Branch County Republican Party, the American Legion Post No. 298, the Union City Society for Historic Preservation, and was named Union City's Citizen of the Year.
Bill was the last surviving charter member of the Branch County Association of Realtors. He also was an active member of the Board of Directors for the Michigan State Auctioneers Association serving as the statewide organization's Secretary, Treasurer, and President. He was the third-ever inductee into the Michigan State Auctioneers Association Hall of Fame. He retired from his business in 2002, marking his 50th year as an auctioneer.
Surviving are his children Lucy (Don) Sheppard of Coldwater, Deborah Coats Versau of Battle Creek, William Coats, Jr., of Union City, and Bob (Kathy) Coats of Coldwater; special companion Darlyn Rohloff and her family; grandchildren Kevin (Michelle) Sheppard, Donna Sheppard Galliers, Amanda Redebaugh, Christopher (Elizabeth) Fisher, William (Jennifer) Coats, Corey (Cheryl) Fisher, Brenton Coats, and Sarah (Ryan) Lawrence; and brother Nathan Coats. He is also survived by many great-grandchildren, nieces, nephews and extended family.
In addition to his wife, Bill was proceeded in death by his parents and a daughter, Klaudia Fisher.
In lieu of flowers, memorial donations may be made the Union City Society for Historic Preservation, 210 Charlotte Street, Union City, MI 49094.