Thomas H. Wiltjer
CAI, AARE, GPPA
1944-2000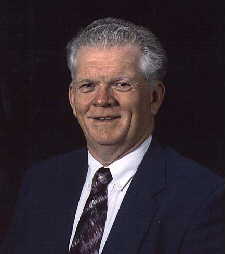 Thomas H. Wiltjer was born June 23, 1944 in Grand Rapids, Michigan. Tom was the President and owner of his family business, Tom Wiltjer, Inc. He operated his business as TWI Auctioneers & Appraisers. He wore many hats as an Auctioneer, Appraiser, Excavator and Real Estate Salesperson.
Throughout his life, Tom enjoyed many hobbies and special interests. Some of his favorites include Great Lakes Fishing, raising and showing horses and spending time with his family.
Tom traveled extensively with his family to Auction and Quarter Horse Conventions. If you couldn't find him, he was probably out on Lake Michigan in his dream fishing boat, fondly named "Monkey Business."
Some of his achievements include the Michigan Quarter Horse Association Father of the Year, Grand Rapids Home Town Hero, Graduate of the Certified Auctioneers Institute, Accredited Auctioneer of Real Estate and Graduate Personal Property Appraiser. Tom was President of the Michigan State Auctioneers Association in 1998 and National Chairman for the 50th Anniversary Convention for the National Auctioneers Association. He was heavily involved in the Quarter Horse industry and outdoor sports with his family. Tom also was a great fundraiser, helping to raise millions of dollars for many charitable organizations.
On December 18, 2000, Thomas H. Wiltjer passed away. He will be greatly missed by his family and friends. Tom was preceded in death by his parents and his son, Todd. He is survived by his wife of thirty-seven years, Nancy; his children, Troy Wiltjer and his fiancee Pamela Kipen, and Tricia Wiltjer and her fiance David Gonzalez; his grandchildren, Kendra, Olivia and Travis.
A great honor was bestowed on Tom's family in January of 2002 when the Michigan State Auctioneers Association inducted Tom into their Hall of Fame for his outstanding service to the association and the auction industry.