Auctioneer Champions
MICHIGAN AUCTIONEER CHAMPIONSHIP
Clayton Neal, Michigan Auctioneer Champion 2018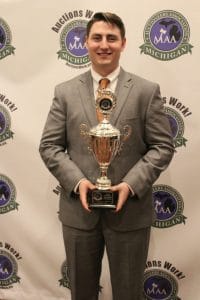 Frankenmuth, Michigan – Clayton Neal of Tiffin, Ohio won the title, Michigan Auctioneer Champion at the Michigan Auctioneer Championship.  The Championship was held on February 1 at the Michigan Auctioneers Association Annual Conference held at the Bavarian Inn located in Frankenmuth, Michigan.  17 Contestants competed for the coveted title.  The 5 Finalists were Ridge Bollheimer (Clarklake, Mich.), Grant Cole (Beulah, Mich), Clayton Neal (Tiffin, Ohio), Billy Peyton (Middletown, Ohio), and Dan Troyer (Dalton, Ohio).  For winning the title, Clayton received a championship ring, trophy, and entry into the International Auctioneer Championship in July in Jacksonville, Florida.
Also taking home honors were Billy Peyton and Grant Cole. Peyton was the 1st runner up and Cole was the 2nd runner up.
Clayton is a first generation auctioneer licensed in Ohio.  He is a full time Realtor selling residential, commercial, recreational and agricultural real estate.  He also sells livestock, farm machinery, antiques, estates and benefit auctions.  In 2013, he graduated from The Reppert School of Auctioneering located in Indianapolis, IN.  Clayton was also named the 2014 Ohio Junior Division Champion.  Clayton is a member of the Michigan and Ohio Auctioneers Associations, as well as the National Auctioneers Association.  He is just a short distance from the Michigan border with the ability to work both in Ohio and Michigan.
His journey started this past June with encouragement from the 2017 Michigan Auctioneer Champion, Eli Troyer.  In those 9 months leading up the Michigan Auctioneer Championship, Clayton focused on positive encouragement and the dream of being a full time auctioneer.  The amount of personal growth during this time was instrumental in providing both maturity and a new positive outlook on our mission here on Earth.
Aside from the auction business, Clayton is a Senior at Tiffin University graduating in May with a Business Management Degree.  He also breeds and trains English setters.  "I am honored to have been named the 2018 Michigan Auctioneer Champion and I look forward to representing the MAA in the International Auctioneer Championship in Jacksonville, Florida in July."