Professional Auctioneer Mathias Donat Wins the Michigan Ringman Championship!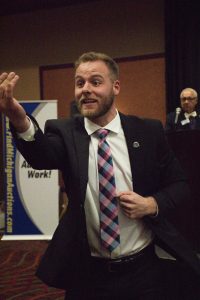 Mathias Donat was awarded the honor of 2022 Michigan Ringman Champion on January 28, 2022 at the Michigan Auctioneers Association Annual Conference in Mount Pleasant, Michigan.  Five Contestants competed for the coveted title.  The contestants were judged by five accomplished auctioneers, including International Auctioneer Champion Bill Sheridan. They were judged on four categories:  Crowd/Buyer Interaction, Performance, Relaying Bids and Communication with their Auctioneer, and Appearance/Presence.  Also taking home honors were Ridge Bollhemier of Jackson, 1st Runner Up, and Ray Krakowski of Dryden, 2nd Runner Up.
Not to be confused with a 'Bid Spotter' – the professional Ringman is an occupation in the auction industry essential to professionally conducted auction events.   In layman terms, the auction ringman works in unison with the auctioneer. The Ringman is a skilled negotiator who is confident, energetic, and assertive to help make the bid happen instead of simply waiting for the bid to happen.
Donat is a first-generation auction professional. He has nearly a decade of experience as a professional auctioneer and Ringman involved in over 500 estates, businesses, and fundraising auctions. He is a graduate of the Ohio Auction School and received certification as a Certified Estate Specialist (CES).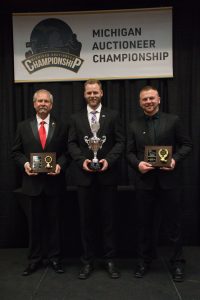 He is a member and Board of Director with the Michigan Auctioneers Association. Donat was promoted to Auction Manager at Braun & Helmer Auction Service in Saline, Michigan. He retains the same title for The Super Auction located in Tipton, Michigan. In addition to being successful in the auction industry, Donat also serves in the United States Marine Corps Reserves as a Heavy Equipment Operator (MOS 1345). In July 2021, he was recognized as 'Marine of the Quarter' and promoted from Lance Corporal to Corporal.
"The auction industry is about serving people, solving problems, and being a skilled negotiator. That is the foundation of the Ringman. Therefore, being recognized as the champion of this competition by my peers is really a humbling experience that I will always treasure." Said Donat.
***
Established in 1951, the Michigan Auctioneers Association is dedicated to the enhancement of Michigan's Auction Industry through education, promotion, advocacy and networking. The MAA is the professional association for auctioneers in Michigan, continuing to be one of the leaders in the industry, and is proving to continue in that direction in the future.  The Michigan Auctioneers Association is the largest representation of auctioneers in Michigan, providing a forum for networking, sharing ideas and experiences.  For more information about the Michigan Auctioneers Association and the auction industry in Michigan, log onto www.FindMichiganAuctions.com.