Larry Harb Wins the Michigan Ringman Championship!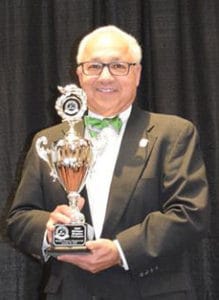 Mount Pleasant, Michigan – Larry Harb was awarded the honor of 2020 Michigan Ringman Champion on January 30, 2020 at the Michigan Auctioneers Association Annual Conference in Mount Pleasant, Michigan. Eight Contestants competed for the coveted title. Contestants were judged by a panel of five accomplished auctioneers, including an International Auctioneer Champion and the world's most famous auctioneer, Leroy Van Dyke. They were judged on four categories: Crowd/Buyer Interaction, Performance, Relaying Bids and Communication with their Auctioneer, and Appearance/Presence. Also taking home honors were Ridge Bollhemier of Clarklake, 1st Runner Up, and Mike Furlo of Midland, 2nd Runner Up.
Larry Harb was first introduced to the auction industry through the insurance side of the industry. After working with several auctioneers on their insurance needs, he became intrigued by the business and decided to attend auction school in 2008. He started his auction career working for Geyer Auction Service in Williamston in 2008 as a ringman and fill in auctioneer for his quarterly consignment auctions. In addition he has assisted with several benefit auctions for groups like Habitat for Humanity. Larry has also worked as Ringman with a number of different auctioneers at fundraising events for Ingham and Shiawassee County Pheasant Forever Groups and other charitable organizations.
Harb has competed in the ringman competition in previous years. He thought he could win the competition by just spotting bids and making noise. However, he learned that there is a legitimate art to working the auction ring and began to educate himself on the mechanics of being a professional ringman then bringing the complete package to the competition.
Larry is a member of the Michigan Auctioneers Association and the National Auctioneers Association as well as a graduate of the Ohio Auction School and the Professional Ringmen's Institute. He has attended over 100 different state association conferences and been a speaker at approx 25. Mr. Harb has over thirty years of experience in the financial services and insurance industries. During his career he has also served as an instructor at Michigan State University and Illinois Institute of Technology. He is also an instructor of Auction Risk Management for the Kentucky Auction Academy, Continental Auctioneers School and the North Georgia School of Auctioneering.
Mr. Harb holds a Masters of Management degree from Northwestern University's Kellogg School of Management and a Bachelors degree from Northern Illinois University. He coauthored the book "Reinventing the Retail Bank" published in 1994. He is a Certified Identity Theft Risk Management Specialist and has written numerous articles and is a frequent guest speaker at industry conferences.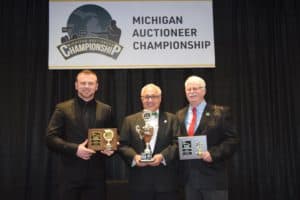 ***
Established in 1951, the Michigan Auctioneers Association is dedicated to the enhancement of Michigan's Auction Industry through education, promotion, advocacy and networking. The MAA is the professional association for auctioneers in Michigan, continuing to be one of the leaders in the industry, and is proving to continue in that direction in the future.  The Michigan Auctioneers Association is the largest representation of auctioneers in Michigan, providing a forum for networking, sharing ideas and experiences.  For more information about the Michigan Auctioneers Association and the auction industry in Michigan, log onto www.FindMichiganAuctions.com.