Joseph C Schmitt
Joseph C. Schmitt III
MSAA 2011 Ringman Champion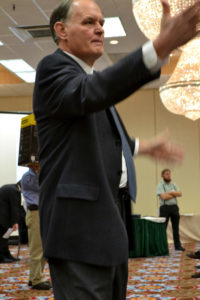 Joe Schmitt, of Grand Blanc, Michigan won the 2011 Michigan Ringman Championships. This year the contest was held in Lansing at the 60th Anniversary Conference of the Michigan State Auctioneers Association.
Joe Schmitt of Grand Blanc, MI has had a diversified career. Joe has been in the real estate business for 40 years. He is a licensed real estate broker, licensed builder, developer, networking solicitor, property manager, Foreign and Domestic Missions Ambassador Partner, award winning Newton Group Elite Associate, President of Mid America Management Corp., President of Mid America Investment, Inc., President /Broker of Masterbid, Inc. , and is a Certified Estate Specialist.
Joe has been Associate Broker/Commercial Manager for Coldwell Banker Kuehnle & Assoc., Inc., Board member and deacon of Mount Hope Church, Treasurer of the Board of Education for the Grand Blanc, MI school district, Board member MSAA, and is currently active in the community working with Mission of Peace Flint, MI, Acres USA, and Executive Director of the CS Benefit Fund.
Joe has a passion for the auction business. He specializes in Real Estate auctions. He enjoys and is active working as a contract auctioneer and has worked for many auctioneers in the association. Joe conducts many charity and fund raising auctions for a very diverse clientele. He loves teaching and training. His development of the MB Education and Training Center has been a special project he enjoys very much. Joe has conducted many seminars, speaking engagements, and training courses related to Auctions, Marketing, Sales, and Real Estate.
Joe is a graduate of Grand Rapids West Catholic High School, attained a Bachelors degree from Grand Valley State University, Certified from Mount Hope Leadership and Ministry Training, Reppert School of Auctioneering, and regularly attends many continuing education and training seminars.
Joe's association memberships include and have included, Michigan State Auctioneers Association, National Auctioneers association, Indiana Auctioneers Association, Michigan Association of Realtors, Flint Area Association of Realtors, North Oakland County board of Realtors, The Commercial Industrial group, The Rural land Institute, NRA, and active member of Mount Hope Church Grand Blanc.
Joe would like to thank the Michigan State Auctioneer's Association for this opportunity to represent them over the next year as the Michigan Ringman Champion.