Jonathan Kraft

MAA BID CALLING CHAMPIONSHIP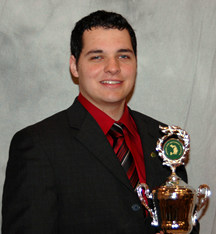 Jonathan Kraft
MAA 2008 Bid Calling Champion

Jonathan Kraft, 21, of Hobart, IN won the 2008 Michigan State Bid Calling Championship. This year the contest was held at the Double Tree Hotel in Bay City, MI along with the MAA Annual Conference. 21 contestants from Michigan, Indiana, and Ohio competed for the coveted title. For winning the title Jonathan received a championship ring, trophy, and entry into the International Auctioneer Championship in Nashville, TN this July.
Jonathan graduated from Hobart High School in 2005 and will graduate from Purdue University in 2010 with an MBA, double major in management and accounting, and a minor in marketing. In 2005 he also graduated from World Wide College of Auctioneering in Mason City, IA.
Growing up in the business, Jonathan is a second generation auctioneer following in his dad's, Conrad Kraft, foot steps. Working mostly in Hobart with his dad and their business Kraft Auction Service, Jonathan has also worked with Kruse International, Ritchie Bros. Auctioneers, Asia International Auctioneers, Lestinsky Auction Service, and Triple M Auctions. Jonathan is a proud member of the Michigan, Indiana, and National Auctioneers Association. Though he has only been an auctioneer for two years, he looks forward to being an auctioneer for many years to come.
Jonathan would like to thank the Michigan State Auctioneers Association for this opportunity to represent them over the next year and hopes to represent them well at the International Championship.