John Beechy, Michigan Auctioneer Champion 2016
MICHIGAN AUCTIONEER CHAMPIONSHIP
John Beechy
Michigan Auctioneer Champion 2016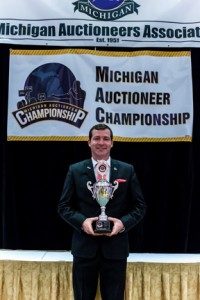 Grand Rapids, Michigan – John Beechy of Napanee, Indiana won the title, Michigan Auctioneer Champion at the Michigan Auctioneer Championship. The Championship was held on February 17 at the Michigan Auctioneers Association Annual Conference held at the Amway Grand Plaza Hotel in Grand Rapids. 21 Contestants competed for the coveted title. The 5 Finalists were John Beechy (Nappanee, Ind.), Romayne Graber (Charlotte, Mich), Frank E. Leist (Petoskey, Mich.), Jarron Miller (Huntington, Ind), and Sara Rose (Naples, Fla). For winning the title, John received a championship ring, trophy, and entry into the International Auctioneer Championship in July in Grand Rapids, Michigan.
Also taking home honors were Frank E. Leist and Sara Rose. Rose was the 1st runner up and Leist was the 2nd runner up.
John began his auction career in the spring of 2009 after graduating from Reppert Auction School. He joined the Indiana and Michigan Auctioneers Associations shortly thereafter. John is currently traveling 3 to 4 states doing 5 to 7 auction's per week selling automobiles, real estate, antiques, collector cars and charity auctions. John recently joined the Halderman Real Estate Services team assisting them with their real estate auction side. He also shares his expertise and talents with aspiring new auctioneers as an instructor at Reppert Auction School.
In 2013, John was named the 2013 Indiana Auctioneer Champion. In 2014, he also was named the 2014 Michigan Ringman Champion and now in 2016, the Michigan Auctioneer Champion. When John is not busy doing auctions he enjoys playing golf and spending time on the lake with friends.
John is humbled and honored to be named the 2016 Michigan Champion he looks forward to representing the Michigan Auctioneer Association at the 2016 NAA Conference and Show in Grand Rapids in July.